More than 22,000 people have engaged with the Pendle Hill Landscape Partnership over the last four and a half years, which has now come to an end. 
The scheme saw 1,930 volunteer days, 233 events held with 10,008 attending, and 57 schools getting involved in outdoor learning.
The £1.8m National Lottery Heritage Fund supported programme aimed to foster engagement and re-connect people with the landscape and heritage of Pendle Hill.
It leaves a legacy that includes conservation from planting trees and tackling climate change, to restoring hedgerows and wildflower meadows.
Practical projects saw 18 hectares of peatland and 5ha of woodland restored, 19 ha of woodland created, 6km of hedge and 1km of wall restored, as well as 9km of routes created or repaired.
Local arts organisation, In-Situ, created a Pendle Peat Pie to act as a conversation starter about peatland restoration. One hundred orders of the pie were sent to world leaders attending COP26. It was tasted live on the BBC Morning show by TV presenter Gethin Jones. In-Situ also led a youth Summit bringing together culturally diverse young people from both sides of Pendle Hill to explore climate change, identity and leadership.
Other major impacts include education, and health and well-being.
Around 1,097 people have attended 180 health and well-being sessions run in partnership with Lancashire and South Cumbria NHS Foundation Trust, deigned to reduce loneliness and isolation,
Cathy Hopley, Programme Manager of the Pendle Hill Landscape Partnership, said: "It's been an exciting and fast-paced programme, that's delivered far-ranging, diverse projects with a clear, positive benefit on individuals, our environment, and community at-large."
Managed by the Forest of Bowland National Landscape (National Landscape), the Pendle Hill Landscape Partnership has brought together 14 projects to celebrate and engage people in the landscape.
The iconic Pendle Hill on the edge of the Forest of Bowland is within reach of many urban communities, and it creates a beautiful backdrop to their lives.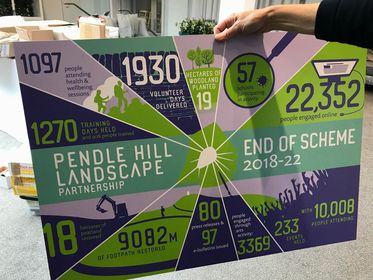 Cathy Hopley said: "A research project, 72 Seasons, was designed to help more people connect with nature, and it showed astonishing results. Participants reported improved sleep, reduced loneliness, and feeling more connected. There's a lot of research into why nature is good for us, it can reduce blood pressure and improve mood. There's quite a lot of inequality in green space, and we wanted to make Pendle Hill accessible to all communities with these innovative activities."
The team have worked with the Dry-Stone Walling Association, Ribble Rivers Trust the Lancashire and Westmorland Hedgelaying Association, encouraged nature friendly farming, and worked with the local Pakistani community to look at links to nature and their faith.
Projects have also inspired new audiences to learn, connecting communities to shared heritage.
In partnership with Mid-Pennine Arts, artists, makers, researchers and story-tellers have been engaged to tell the radial stories of Quakers, Romans, witches and the first female working-class novelist, the 'Mill Poetess", Ethel Carnie Holdsworth.
In addition, thanks to support from The Ernest Cook Trust, 57 schools, 160 schools' sessions, and 10,000 parents, carers, children and young people have engaged in a variety of sessions and settings, such as mini beast hunts and archaeological explorations. 50 teachers recently attended an outdoor learning event to gain knowledge skills and resources to enable them to continue their good work.
Over 100 arts events were delivered, attended by 6300 people; 3369 people engaging creatively with more than 46 artists.
Louise Sutherland, National Lottery Heritage Fund Head of Engagement for the North, said:  "The sheer breadth and the amount of people who have worked on this scheme, made possible thanks to National Lottery players, and its success is testimony to the work of trusted partner organisations who fostered such fantastic community engagement. These creative partnerships have helped the team to access networks within under-served communities, and tailor projects to their needs. The projects have inspired new careers, new volunteering and new friendships, leaving a lasting legacy for Pendle Hill."
The Honourable Ralph C Assheton, Chairman of the Pendle Hill Landscape Partnership, said: "Thanks to the support of partners and the hard work of volunteers, the programme has left a lasting impact. Pendle Hill is important to a lot of people, and our aim was to protect and improve the landscape and heritage of the area, whilst also providing the opportunity for a wider range of people to connect with this special place."
A celebration event with participating artists, conservationists, academics, community leaders and others who took part in the Pendle Hill Landscape Partnership was held on Thursday 13th October 2022 at Stirk House in Clitheroe.