The Forest of Bowland Farmer Group has been developed by the Forest of Bowland AONB, through the Farming in Protected Landscapes programme. It aims to act as a contact group for Farmers within the Forest of Bowland AONB to provide support and connectivity during the agricultural transition. We currently have funding to run the group until the end of March 2024, but would love to see the group continue past this point. 
During this period, we plan to run four 'on-farm' events, a chance for you to listen to key speakers, discuss that topic, socialise and have a wander around the host's farm. We hope that these events will be informative, give you the chance to explore farming opportunities, and help to develop new friendships and contacts across the AONB.
Alongside these events, we will be sending quarterly e-newsletters and email updates which will include details of potential funding opportunities, local training courses and events, and of course our own Forest of Bowland Farmer Group events.
There is no charge for becoming a member. To sign up please click this link and complete your details.
Forest of Bowland Farmer Group Events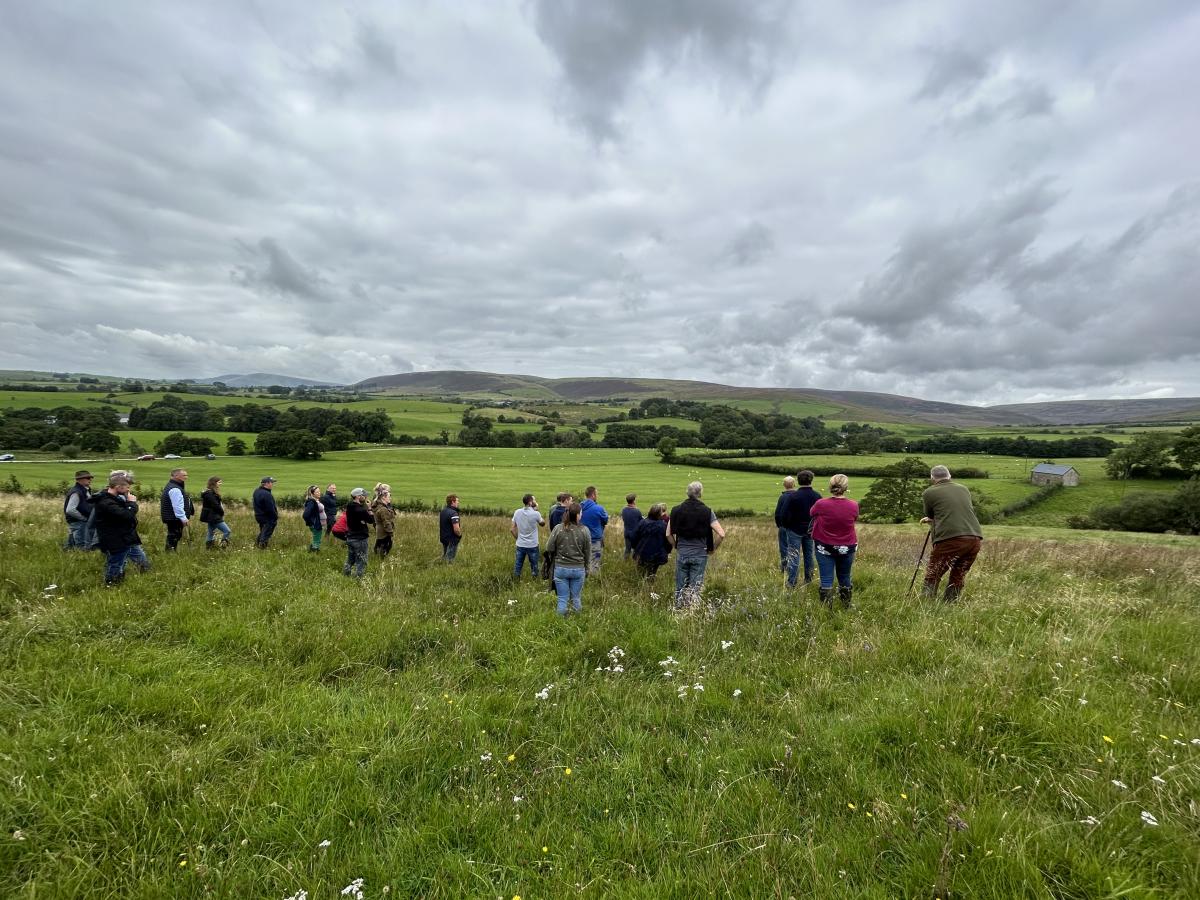 Our second meeting was held on Wednesday 23rd August 2023, kindly hosted by Farmers Malcolm Handley and his Son Mick at Croasdale Farm, Slaidburn. The theme of the event was Nature Friendly Farming in Bowland and was well attended with a total of 30 people. Starting at 10.30am, farmers had an arrival brew and a chance to catch up with each other briefly before heading out on a farm walk delivered by farm hosts Malcolm and Mick, with input from guest speaker David Hall from the NFU. We started off looking at a beautiful wildflower pasture and discussed how it had evolved and how it has developed over time through the Handley's grazing management techniques. Farmers grouped into vehicles for a short journey up onto the fells to look at the Belted Galloway cattle, newly established Herbal Ley (where James Bretherton from AgScope voluntarily chipped in with his wealth of knowledge on agronomy), and finally we looked at a pen of sheep and discussed the breeding system in place and why it works for the Handley's. Other items discussed were educational access and the Handley's link with Bowland High School, tree planting, boxing beef to sell to the public, and their bracken management project funded through FiPL. Back at the farm everyone enjoyed a lovely buffet lunch provided by Puddleducks in Dunsop Bridge. After lunch, Jenny Wain who is delivering on the Landscape Recovery plan for the Forest of Bowland AONB spoke about the draft plan, where farmers can find it to view online, and how they can offer feedback on it. Following on from this, David Hall from the NFU presented information on the Sustainable Farming Incentive, encouraging discussion throughout and with time for questions as each slide was presented.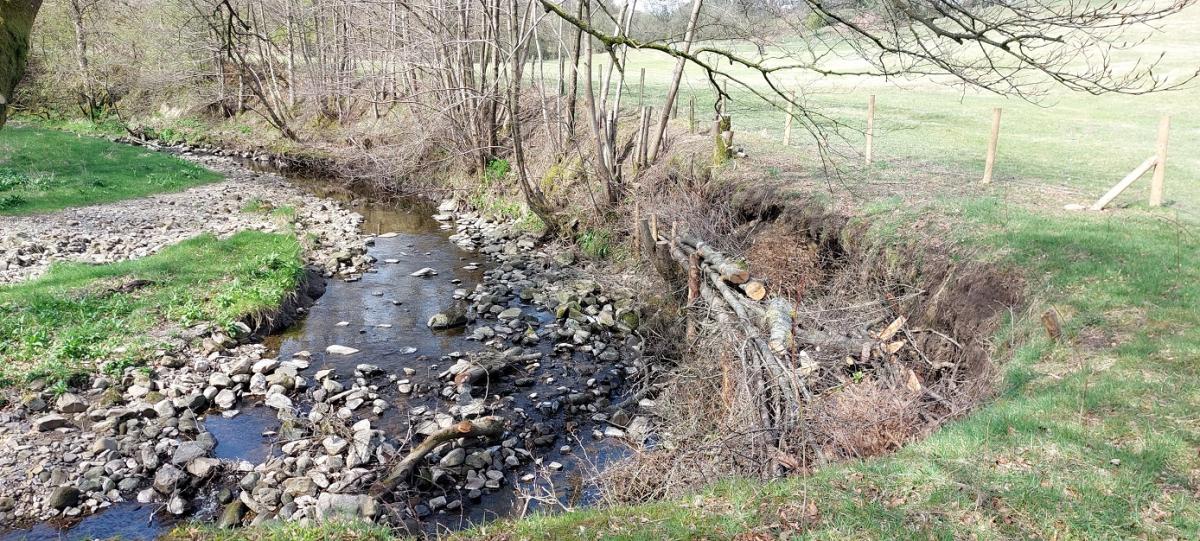 Our next event is-
'Water, Woodlands and Natural Flood Management'
Wednesday 15th November 2023 
11.00am prompt start - 3.00pm (ish) finish
Brackenhurst Farm, Tosside - meeting point at Tosside Village Car Park
Our next meeting is kindly being hosted by Amanda Bowater of Brackenhurst Farm Tosside, alongside the Ribble Rivers Trust who have implemented a natural flood management project on the farm to slow the flow of water and combat flooding and erosion. The meeting will start with a walk and talk led by Guy Mason, Project Manager at the Ribble Rivers Trust, to see how the project developed and what has been achieved. This will be followed by Pie & Peas at Tosside Village Hall and a presentation from Heather Whalley and Kathryn Oddie from the Ribble Rivers Trust who will talk about water, woodlands and natural flood management and the support & funding available.
*The capacity for the morning walk is capped at 30, but we can accomodate more people for the afternoon talk - to book on please email nichola.gill@lancashire.gov.uk or phone 01200 448 000. 
Following on from this, we will hold our final 'on farm' event, more details to follow -
Farm Business Resilience through Diversification - Feb 2024 date & details tbc
Quarterly e-newsletters
Our first e-newsletter was sent out to members in April. You can click the link below to view it -
Useful Contacts for Farmers
Click here to view and download our helpful list of contacts within the local area who can offer advice on different aspects of farming. We hope this will prove useful and save you some time in trying to make contact with those you need! This will be updated as time goes on so do check back.
Let's support each other
We want the group to be informative and relevant, but also act as a means of developing new friendships, meeting new people and learning from each other.  We will be developing a closed group Facebook page (a private page for members only) where farmers can ask relevant questions in order to get help and advice from each other, this will be managed by our group co-ordinator Nichola. More details to follow.
---
For more information please contact Nichola Gill on
nichola.gill@lancashire.gov.uk
or 01200 448000 (part time hours)