Sir Nicholas Serota, chair of Arts Council England and Philip Hygate, chair of the National Association for Areas of Outstanding Natural Beauty (NANational Landscape), signed a landmark Memorandum of Understanding on 23rd September. It represents their commitments to working together to nurture new links between arts and cultural organisations, and England's 34 Areas of Outstanding Natural Beauty (National Landscapes).
Working in partnership under this Memorandum of Understanding means both organisations deliver on their own priorities, underpinned by joint ambitions to see more people engaging with culture and landscape, promoting opportunities, prosperity and wellbeing for rural communities, and contributing to conversations around tackling the climate emergency.
For years, National Landscape teams around the country have commissioned or partnered on awe-inspiring art installations and activities, and the Memorandum symbolises a step change in their commitment to partnering with culture organisations to develop high-quality, ambitious art that will reach and move people and communities across England.
Here in the north west, previous projects include Forest of Bowland National Landscape's Pendle Hill Landscape Partnership, where art and culture were embedded in the 12 projects forming the scheme.  New audiences who may not have previously visited the countryside were invited to take part in the 'Gatherings', run in partnership with In-Situ arts. Events ranged from the "Sowing in Time" peat revegetation initiative to a vegan-friendly "Pendle Peat Pie" served to 120 delegates at the COP26 Peat Pavilion.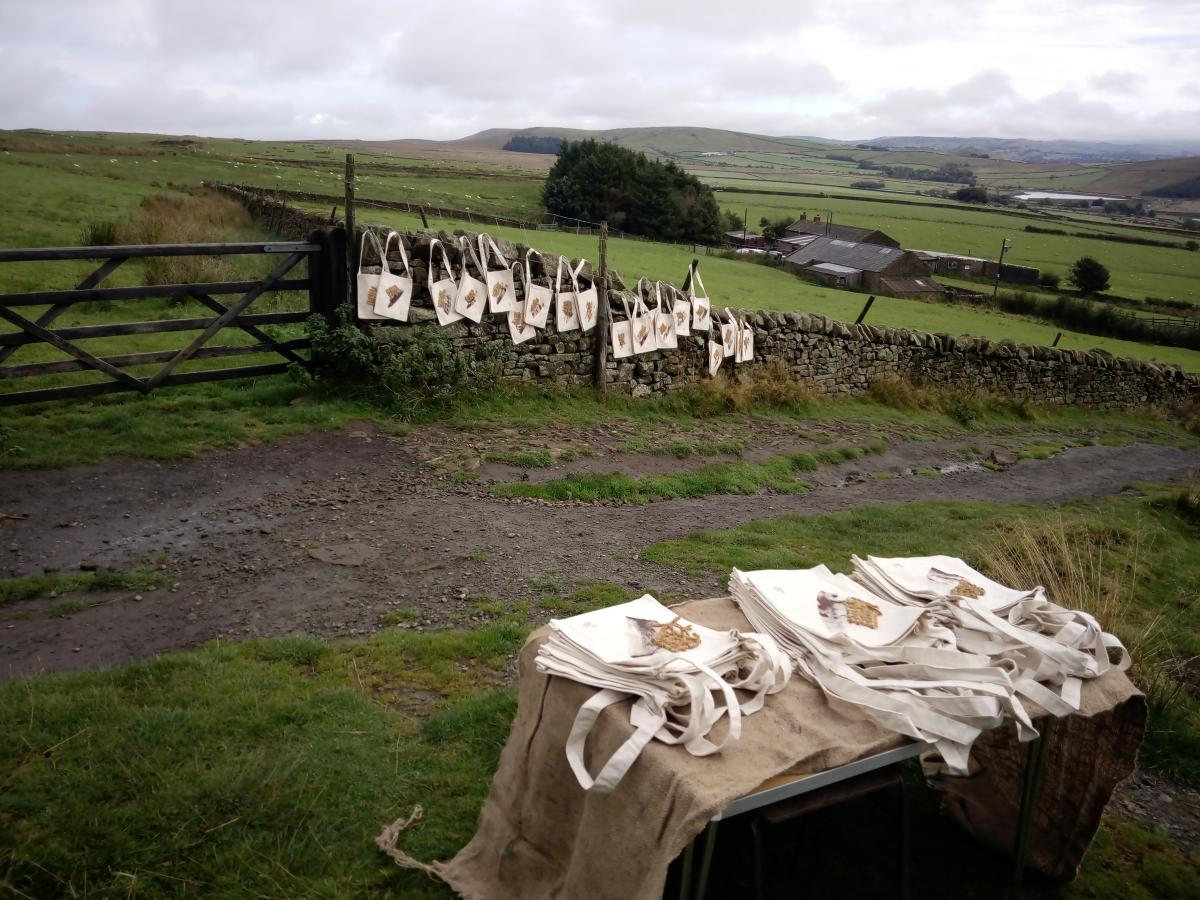 Arnside & Silverdale National Landscape recently worked with local artists Shane Johnstone and Anna Read to help local schoolchildren create a gigantic flying serpent made from lanterns to join Light Up Lancaster 2021. The children, from various schools in the National Landscape and the Lancaster and Morecambe area, were inspired to create the mythical beast, designed to live in the Trowbarrow Local Nature Reserve in Silverdale, following on from a visit to the reserve in which they created creatures from natural found objects.  The project, funded by the Areti Trust, culminated in the children proudly parading through Lancaster with their serpent lanterns.
The Partnership Boards of both Forest of Bowland and Arnside & Silverdale National Landscapes have signaled their commitment to creating greater links with arts organisations by endorsing the National Landscape Network's Art in the Landscape Strategy. We are excited to see how the project develops nationally and locally over the coming years and we will be building greater links with our local cultural organisations.
The signing was hosted by Kent Downs National Landscape Partnership at Samphire Hoe Nature Reserve, as part of National Landscape's Salt + EARTH: Festival of Landscape, Seascape and the Environment. The festival saw artists, creatives and scientists explore everything from geography to geology, sounds to sculptures, food to Deep Time. The festival is an exemplar of how when art, science and landscape come together, our understanding is deepened, but more importantly, our enjoyment and curiosity is fired.
Sir Nicholas Serota, chair of Arts Council England said: "The natural environment has inspired artists and writers through the ages. Today, awareness of our environment feeds our imagination, greatly benefits our wellbeing, and broadens our understanding of the climate challenges we face.
"Today's signing represents further ambitions to deepen our appreciation and engagement with England's rural landscapes, and their surrounding communities. Reflected through the Arts Council's commitment to environmental responsibility, this Memorandum highlights the important, crucial connection between culture and the landscape."
Philip Hygate, chair of the National Association for Areas of Outstanding Natural Beauty said: "England's 34 Areas of Outstanding Natural Beauty are deeply committed to working with art and culture organisations. We have seen that when National Landscape Partnerships and artists come together, the results add up to far more than the sum of their parts, creating experiences that will live long in people's memories. This agreement with Arts Council England provides a framework for us to do more of this invaluable work and enable more people to develop a relationship with the landscapes on their own terms."