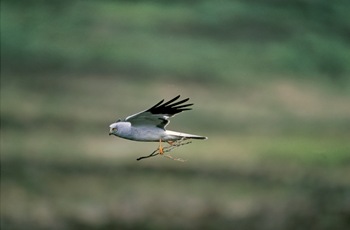 The Forest of Bowland AONB is of national and international importance because of its unspoiled and richly diverse landscapes, wildlife and heritage, with outstanding heather moorland, blanket bog and rare birds.
Thirteen percent of the AONB is designated as a Site of Special Scientific Interest (SSSI) for its habitats and geological features.
The extensive heather moorlands of the fells are exceptionally important as a habitat for upland birds and have been designated as a Special Protection Area (SPA) under the European Birds Directive in recognition of this.
In partnership with RSPB, Natural England and United Utilities, Lancashire County Councils Countryside Service is playing host to the Bowland Hen Harrier Project at the Bowland Visitor Centre, Beacon Fell. Footage of a Hen Harrier nest in the Bowland Fells can be viewed  at the Visitor Centre on Beacon Fell Country Park near Preston.
For details of RSPB's Sky Dancer project and exclusive footage of a hen harrier nest in Bowland in 2011 go to www.rspb.org.uk/skydancer
Also, for all those wildlife enthusiasts out there! a number of sustainable tourism businesses in the Forest of Bowland have joined together to provide a fantastic website blogging about wildlife in the AONB visit www.bowlandwildlife.org.uk or for businesses in wider Lancashire visit www.lancashirewildlife.org.uk
Wader Case Study
In spring, Bowland's farmland and moorland attracts over 6,000 pairs of wading birds such as lapwings, snipe, curlews and redshanks. They mainly breed on enclosed farmland next to the moor and need wet, boggy areas, which teem with the insects and bugs they eat. The Forest of Bowland holds an estimated 6 to 8 percent of the UK's breeding curlew population, which can be found from the highest hill tops to the valleys below, reminding us of its presence with its evocative call.
The RSPB, through its partnership with Lancashire Rural Futures and Ribble Valley District Council, has been working successfully with farmers and landowners for over three years to secure sympathetic management of land for the benefit of these birds.
Case Study: Land Management to Encourage Wading Bird Populations.
Conservation work began on Chipping Moss in 2003. Management of the grassland, rush and wet features on the site has allowed the wading bird populations to flourish, with other species such as Skylark and Reed Bunting benefiting too. Improvement of the habitat has helped Brown Hares to increase on the site and wetland plants such as Ragged Robin and Marsh Marigold. Digging of ponds and ditch works has greatly improved conditions for Great Crested Newts, many species of dragonfly and damselfly and aquatic vegetation communities. Prior to the ditch works, they were steep sided and drained much of the site. Now, they form a network of shallow banked wet and muddy features which support a wealth of wildlife and help maintain wet grassland habitat across the moss.
The most recent phase of work has involved the creation of more wader scrapes and shallow edged ditches, banking up parts of the footpath running across the site and installation of crossing points for farm machinery and stock. All work has been undertaken by local contractors and farmers and funded by a range of bodies including DEFRA's Countryside Stewardship Scheme, RSPB, Ribble Valley Borough Council, Lancashire County Council and the AONB Sustainable Development Fund.
---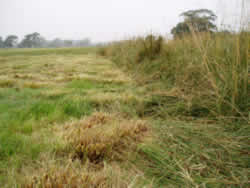 Prior to management work in 2003, there was a dense rush cover over much of the site. Cutting and baling the rush leaving just scattered tussocks opened up the grass sward making the fields far more attractive to wading birds and grazing stock. Smaller stands of rush were left in boggier areas as these provide good habitat for Snipe.
---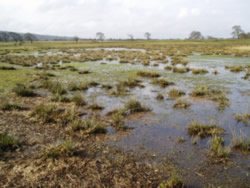 Further management work included rewetting of the site to produce splashy conditions and a short, tussocky sward ideal for breeding wading birds. Establishment of such conditions has for example seen the Lapwing population rise from one pair in 2003 to 10 or 11 pairs in 2006.
---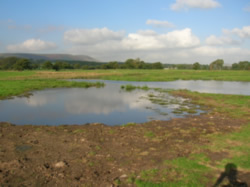 Relatively small-scale works such as the creation of shallow wader scrapes and re-profiling of steep sided ditches provide shallow muddy edges for wading bird chicks to feed.
---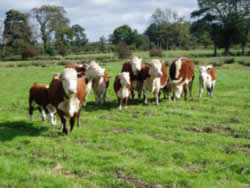 Grazing by native Hereford cattle ensures that rush is kept under control and the short, tussocky sward ideal for wading birds is maintained across the site.