Marketing Lancashire
Activities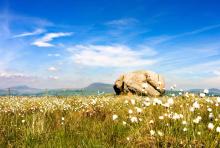 ---
Bowland Revealed is an exciting arts offer designed to celebrate the 50th Anniversary of the Forest of Bowland National Landscape. A partnership project between LCC Arts Development Service, the National Landscape and Ribble Valley Borough Council, the programme has received funding from Arts Council England, via their Grants for the Arts strand, and from the partner organisations.
Landmarks (managed by Mid Pennine Arts) were a series of four ambitious, temporary outdoor visual arts commissions inspired by the Bowland landscape and sited in popular locations around the National Landscape.  On show from September to late December 2014 (Sun Catcher until October 2015) the project attracted attention from BBC's Countryfile programme.
50 Years in the Making (Managed by Green Close) ran from June to December 2014 and engaged local residents, visitors, schools and artists through a series of workshops and exhibitions.
Bowland Explorers' Club (Managed by Mid Pennine Arts) began in May 2015 offering a programme of creative participation which particularly targets communities living around the National Landscape.  The Explorers' Club has visited Cloudspotting (Gisburn Forest Hub), Blackburn Heritage Festival, Burnley Canal Festival; Hopeful & Glorious Art Fair (Lytham), Garstang Victorian Christmas Fair and Brockholes Visitor Centre (x2) In partnership with Wild Rumpus, the club organised a final celebration event in March 2016, again at Gisburn Forest, which attracted over 250 participants.  Branches of the club also worked with In Situ in Brierfield, with Ground Up, linked to the Burnley Mechanics At Home group, and with a group in Bolton.
A Bowland Revealed discussion/evaluation workshop is planned for late April 2016.
6th May 2014

to

30th April 2016
---
Actions
2.4 Sustainable Tourism
Action
Targets and Timescales
Partners
2.4A
Develop resources and a series of training sessions to enable businesses to develop bespoke visitor experiences from their door e.g. rainy day guides, car free itineraries, access opportunities

Support 40 businesses through workshops and one-to-one sessions

View
2.4D
Continue to encourage local retailers, pubs and restaurants to source, stock and utilise and promote local produce

Recruit and support 15 new BEx members from food-related businesses

View
2.4E
Encourage and support local authorities to develop and promote 'Top 10' National Landscape visitor experiences which are accessible from gateway towns and cities

'National Landscape Top 10' promoted by at least 2 local authorities

View
2.4F
Identify and promote opportunities based on seasonal activities to help encourage year-round (or 'off-peak') tourism - e.g. seasonal routes/trails, seasonal produce, bird-watching, fishing, geo-tourism and dark skies)

Workshop held to highlight the opportunities for year-round tourism.

View
2.4G
Continue to support the development of business clusters in the provision and marketing of 'tourism packages' e.g. Bowland wildlife website and Gisburn Forest Bike trails

Develop 2 business cluster projects

View
2.4I
Support opportunities to develop and promote 'Gisburn Forest and Stocks' as a destination for cycling, walking and riding

New branding and visitor information rolled out for Gisburn Forest and Stocks

Investigate potential to divert bus route to link with Gisburn Forest Hub

View
2.4J
Investigate the role of mobile technologies to provide an enhanced visitor experience, recognising the limitations of the telecommunications network in the National Landscape

Produce a mobile-friendly version of the National Landscape website

Develop at least 3 mobile apps for walking, cycling and local produce/crafts

View
2.2 Local Economy and Rural Services
Action
Targets and Timescales
Partners
2.2F
Develop an effective way of collecting and disseminating tourism related data for the National Landscape

Collate and analyse tourism data annually.

Disseminate information to partners annually

View
3.4 Information and Publicity

| Action | | Targets and Timescales | Partners | |
| --- | --- | --- | --- | --- |
| 3.4D | Promote the Countryside Code to visitors with clear messages communicated through all National Landscape and partner communications channels | Review and develop content on Countryside Code on National Landscape website, social media, print and on-site interpretation, wherever possible | | View |
3.5 Branding and Identity
Action
Targets and Timescales
Partners
3.5E
Ensure that National Landscape gateway sites (e.g. country parks, market towns, nature reserves) and tourism businesses open to the public continue to carry National Landscape literature

Review and maintain leaflet distribution service

View
3.5F
Develop and maintain relationships with specialist media in promoting the National Landscape as sustainable tourism destination

Update National Landscape green travel guide

Investigate scope to develop destination guide through 'Our Land', a Protected Landscapes tourism project

View