Enjoyment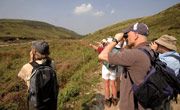 Partnership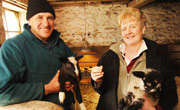 Landscape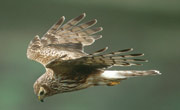 Community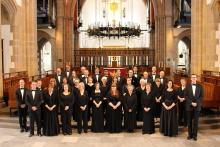 There is still time – just! - to book your seats for the world premiere of a brand new choral work, Music of the Forest. Written by William, 16th Lord of Bowland, and set to music by Lakeland composer, Christopher Gibbs, this four part song cycle evokes the landscape and history of our beautiful area. Performed by the Renaissance Singers of Blackburn Cathedral under the baton of Samuel Hudson, and featuring acclaimed musician, John Kenny, playing the carnyx, this is an evening not to be missed. Slaidburn, Thursday 15th June, 7.30pm. Tickets cost £7.50 and need to be booked in advance by emailing sandra.silk@lancashire.gov.uk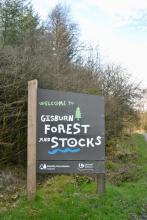 Launched on 7th May, the Bowland Explorer is a brand new bus service which will run on Sundays and Bank Holiday Mondays until 24th September.  The 16-seater service will connect with Bentham Line rail services from Leeds and Morecambe at Bentham Station and with Clitheroe Line services from Manchester, Bolton and Blackburn at Clitheroe station.  The Explorer's Bowland route will take it on two return journeys between Bentham and Clitheroe and one return journey to Gisburn Forest Hub, which makes it great for everything from Sunday lunch in a pub or café, to al fresco picnics and forest rambles.
And to celebrate this fantastic opportunity to enjoy Bowland without the car, we're organising events on the second Sunday of each month between June and September. (Check the timetable to find out whether you can travel to them from the Bentham or Clitheroe direction!)
Partnership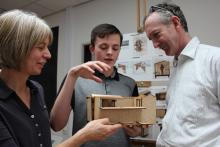 The Pendle Hill Landscape Partnership scheme is now well into the development stage. All the projects have now been finalised, and lead partners have been busy putting together detailed project plans. In total there will be 15 different projects which will fall under one of three themes: Environment, Economy and Everyone, and includes work which focuses on the area's traditional boundaries and habitats; the hidden secrets of the hill in terms of archaeology and the Pendle Radicals; improving 'Access for All' and looking at 'What's a Hill Worth?' amongst other things. The thread of community engagement continues to run strong throughout the development stage, with a number of successful Gatherings over the past 18 months which have all aimed to engage and explain the Landscape Partnership to the local people.
The Pendle Hill volunteers group is also up and running, meeting at least twice a month, and so far they have been involved in a number of activities such as hedge laying, species based surveys and boundary surveys. We have also received some outside input, from a number of students from Manchester School of Architecture whose project followed a brief for a summit shelter and one for a Shepherd's Hut, both features we are hoping to implement with the Landscape Partnership. The designs produced were of a very high quality and the summit shelter is now being planned based on one of the design (see photo). If you have any questions or would like to become a volunteer please contact jayne.ashe@lancashire.gov.uk or cathy.hopley@lancashire.gov.uk
Landscape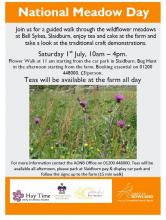 It's National Meadow Day on Saturday 1st July, and we are celebrating with an Open Day at Bell Sykes Farm in Slaidburn. Join a guided walk to learn more about the wildflowers in these amazing meadows and their traditional uses in the morning, watch traditional craft demonstrations including wood and stone carving, spinning and traditional mowing, catch some bugs in a bug hunt or just sit and enjoy the meadows with a brew and a slice of cake.
The meadows at Bell Sykes are amongst the best examples in the whole of Lancashire and seed from them has been used to restore the wildflowers to 26 meadows across the AONB since 2012.
Guided walk places cost £3 and will need to be booked in advance by contacting sarah.robinson@lancashire.gov.uk Tel: 01200 448000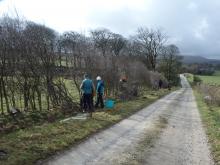 A huge thank you to all those who came along to one of the 17 hedge laying training sessions which ran between December last year and March this year.  By the end of the season 100's of meters of hedge had been laid - from Scorton to Rimington - and a host of enthusiastic people had practiced this traditional management technique.
A healthy hedge not only offers a good stock barrier and shelter, it also provides great habitat for birds and small mammals, not to mention being a key element of the Bowland landscape.
Thanks too to all our hedge laying trainers for passing on their skill and knowledge – and often a good dose of entertainment too!