Partnership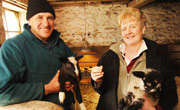 Community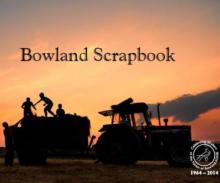 The Bowland Anniversary Scrapbook was published in time for our gala dinner on 1st November. It has been very well received and was given out to all contributors and volunteers involved in the six month project. Surplus copies were also made available for sale and have raised in excess of £500 for Champion Bowland: much of this going directly back into the project. If you've not managed to get hold of a copy they are sadly no longer available for sale, but you can view copies at Clitheroe library, Slaidburn Archive or the AONB Offices. There is also an electronic copy available to view online here
Photos contributed to the project can also be viewed on our historypin channel here
We will also be uploading audio files to this site from interviews with some of the people we met during the project. Big thanks go to the project researcher Sue Holden and her band of volunteers, to everyone who contributed stories and photos, to Osprey for the fantastic publication, and to Heritage Lottery Fund for enabling Champion Bowland to deliver such an enjoyable and educational project.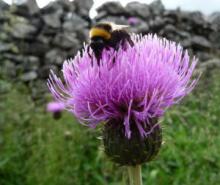 In November the AONB Sustainable Development Fund grants panel met for the second time this year to allocate funds to a number of schemes. A full list of projects can be viewed here.
We hope to have the grant scheme open to applications again in the Spring so if you have a project in mind please do get in touch to discuss it and we can help you to develop your ideas further. Contact cathy.hopley@lancashire.gov.uk or call 01200 448000.
The fund supports projects which deliver against the three objectives of sustainable development: the environment, the economy and the community. Although projects do not have to tackle all three objectives there should be a balance of at least two elements. So, for example, whilst we often support village hall refurbishment projects we can only grant aid those elements which directly improve the environment or reduce costs (eg insulation) whilst also helping the community. Have a look at the website to see the range of work we have supported over the last ten years of SDF!
During the AONB's 50th Anniversary year, Champion Bowland raised nearly £1000 from the raffle, events and donations. The Trustees have decided to offer this money as a one- off grant: the Bowland Jubilee Award.
They are looking for a single project that will: 1. Conserve or enhance the area's outstanding landscape 2. Create a project that has a lasting impact 3. Involve the local community, especially young people
Community groups, environmental organisations, volunteers and youth groups are all invited to apply by the deadline of 10th February using an application form which can be downloaded here. So, get your thinking caps on and apply now so you are in with a chance of winning!
Also, thanks to one of the trustees of Champion Bowland, Paul Reynolds from the Traddock, you can now keep up to date with Champion Bowland via social media. Please like, follow and share - www.twitter.com/championbowland and  www.facebook.com/championbowland
Partnership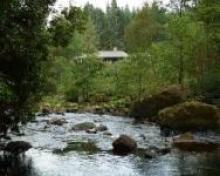 Mike Pugh left the AONB team in November for his well-earned retirement. On behalf of the partnership and Bowland Experience members we wish him all the best, and thank him for the fantastic work he delivered in Bowland, especially in co-ordinating the BEx network, he will certainly be missed!
The network continues to grow from strength to strength and we welcome new members: Chipping Farm Shop run by Sue Charnley, which recently opened replacing what was Robinson's Butchers, offering fantastic meats and local produce. Also, to Brickhouse Touring Caravan Site and Plum self-catering cottage, Chipping; run by Lynda and Tim Gornall www.brickhouseccs.co.uk and www.brickhouseholidaycottage.co.uk.
Finally, very well done to Roeburnscar Holiday Cottage, Wray, who were recently awarded Gold from the Green Tourism Scheme. Have a look at some of the great initiatives they have implemented www.roeburnscarholidaycottage.co.uk
If you are interested in joining Bowland Experience please contact hetty.byrne@lancashire.gov.uk
Landscape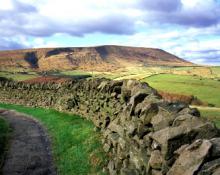 As mentioned in our last e-bulletin, the AONB Unit is developing a major bid in the Pendle Hill area to the Heritage Lottery Fund's Landscape Partnership Scheme. This is for a project which now has an official vision: "Pendle Hill is a landmark of Pennine Lancashire, and this iconic massif will become a focus for bringing town and country people together to understand, restore and celebrate the distinctive landscape and heritage of this much loved and inspiring place."
We are now busy developing our 15 projects and also setting up a Partnership Board which will guide and support the development and delivery of project plans. The bid will be submitted at the end of May and then we have to wait until October to find out if we have been awarded a stage 1 pass. If we are successful we then start a development phase which could run from January 2016 for 12-18 months, followed by the four year £2m delivery phase which will begin by 2018.
If you'd like to get involved in planning this programme, or keep in touch with our plans, please contact cathy.hopley@lancashire.gov.uk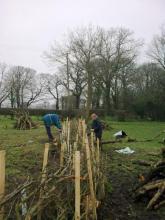 Want to learn a new rural skill or improve your existing skills? Then join us for hedge laying training in the Lancashire & Westmorland Style, with expert tuition provided by Joe Craig and Geoff Whitley. Prizes for the most improved teams and all tools will be provided.
3rd & 4th February: Crook O'Lune picnic site, Nr Lancaster
27th & 28th February - the cycle track between Carr House Lane & Sylvester St, Lancaster
For more information or to book a place contact Tarja Wilson on 01200 448000 tarja.wilson@lancashire.gov.uk