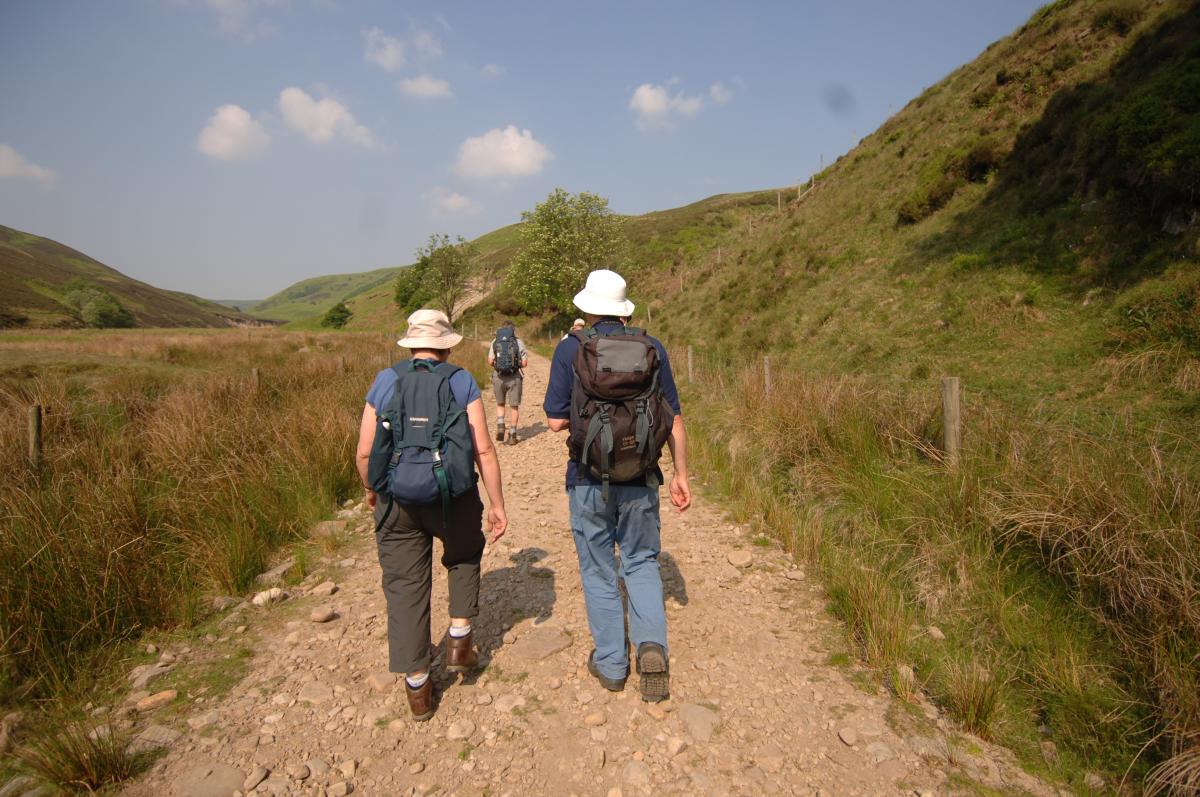 The Forest of Bowland offers some of the most beautiful and remote walking in the country, from the grandeur and isolation of the moorland hills to the undulating lowlands with their distinctive pattern of settlements, woodland cloughs and river valleys. These landscape contrasts, along with the serenity and tranquility of the area make this a walker's paradise.
As well as the fell tops and moors, there are extensive opportunities for shorter and less challenging routes in the valleys, most especially riverside walks which abound in the area.
---
Downloadable Walking Routes
On the walking page simply click on a route via the map and view or print the route as a pdf or download the route as a .gpx file to follow the route in your favourite App.  We have created all the routes using the Outdoor Active App.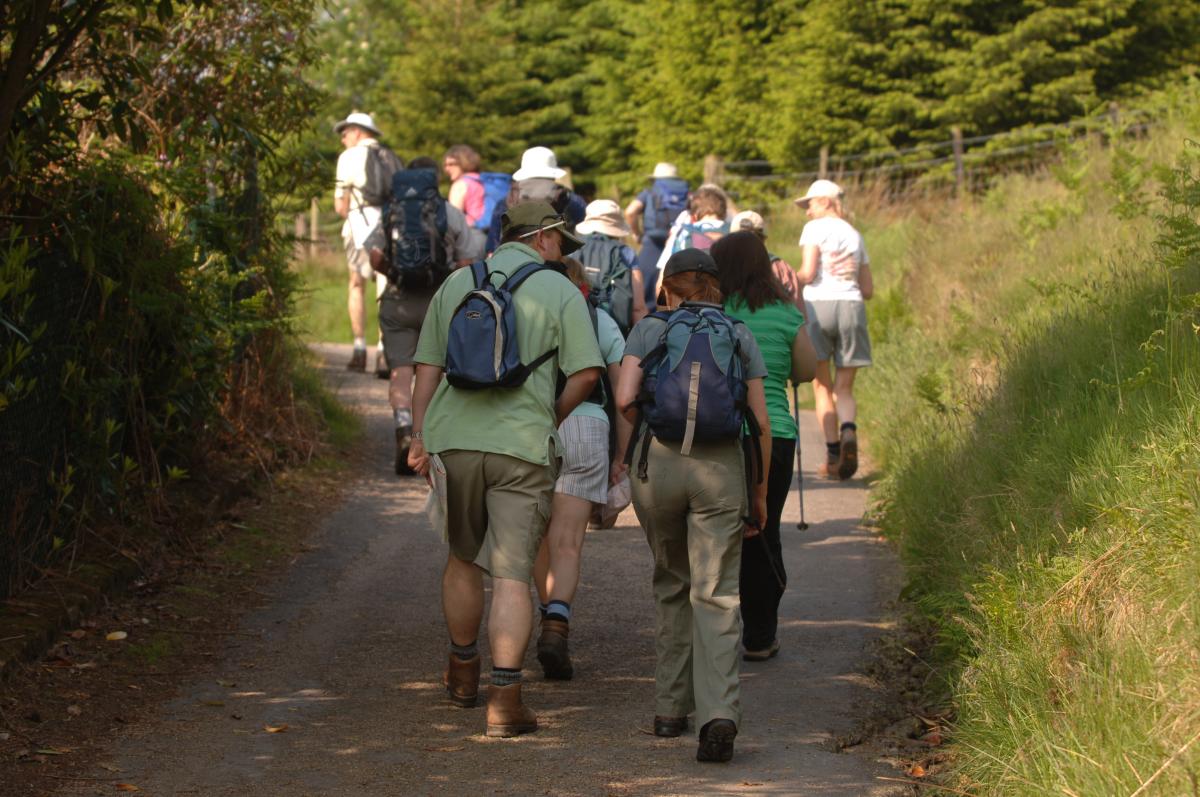 We hope that these walking routes will give you the opportunity to explore and enjoy this beautiful area but please be aware that this is a living landscape and changes may well occur along the routes themselves over time.
Should you encounter any problems with one of the promoted download routes please contact the AONB unit on 01200 448000 or email bowland@lancashire.gov.uk.
Problems with rights of way in Lancashire can be reported at http://www.lancashire.gov.uk/ "Report a highway fault" and in North Yorkshire by emailing paths@northyorks.gov.uk
Please also be aware that many of the walks covered by these download routes pass through farmland where there is likely to be livestock.  See our Walking Safely information below and advice given on the National Farmers Union website.
An alternative for planning your own routes is a the Visorando website - use their walk planner to easily plot a track on a UK Ordnance Survey leisure map.
Access Land
In September 2004 parts of Bowland became open to walkers for the first time as the Countryside and Rights of Way Act 2000 gave general right of access to the public to 'Access Land' for the purposes of open-air recreation on foot.
For the most up to date information on where you can go in Bowland and what local restrictions may apply, contact the Open Access Contact Centre
openaccess@naturalengland.org.uk or telephone: 0300 060 2091
If you plan to do any walking in Bowland it is essential to use Ordnance Survey Map OL41, 'Forest of Bowland & Ribblesdale'. Maps after September 2004 show Access Land in yellow.
Much of the Access Land in the Forest of Bowland AONB is within a Special Protection Area (SPA). This European designation recognises the importance of the area's upland heather moorland and blanket bog as habitat for upland birds. Bowland's moors are home to many threatened species, including merlin, golden plover, curlew, ring ouzel and the rare hen harrier; symbol of the AONB.
Treading Carefully is a leaflet that has been produced in partnership with the RSPB, English Nature and Lancashire Countryside Service and illustrates how walkers and birdwatchers can help ground nesting birds. This leaflet also folds out into an attractive bird identification guide.
Key messages to remember:
Be safe - plan ahead and follow the signs.
Observe the local dog restrictions where they apply: e.g. Dogs are usually excluded all year round from grouse moors and seasonally from lambing enclosures. On all other land they must be on a 2 metre lead during the bird-nesting season (1st March to 31st July).
Leave gates and property as you find them.
Tread carefully - much of Bowland's Access Land is important for ground-nesting birds, upland farming and game management.
---
Walking Safely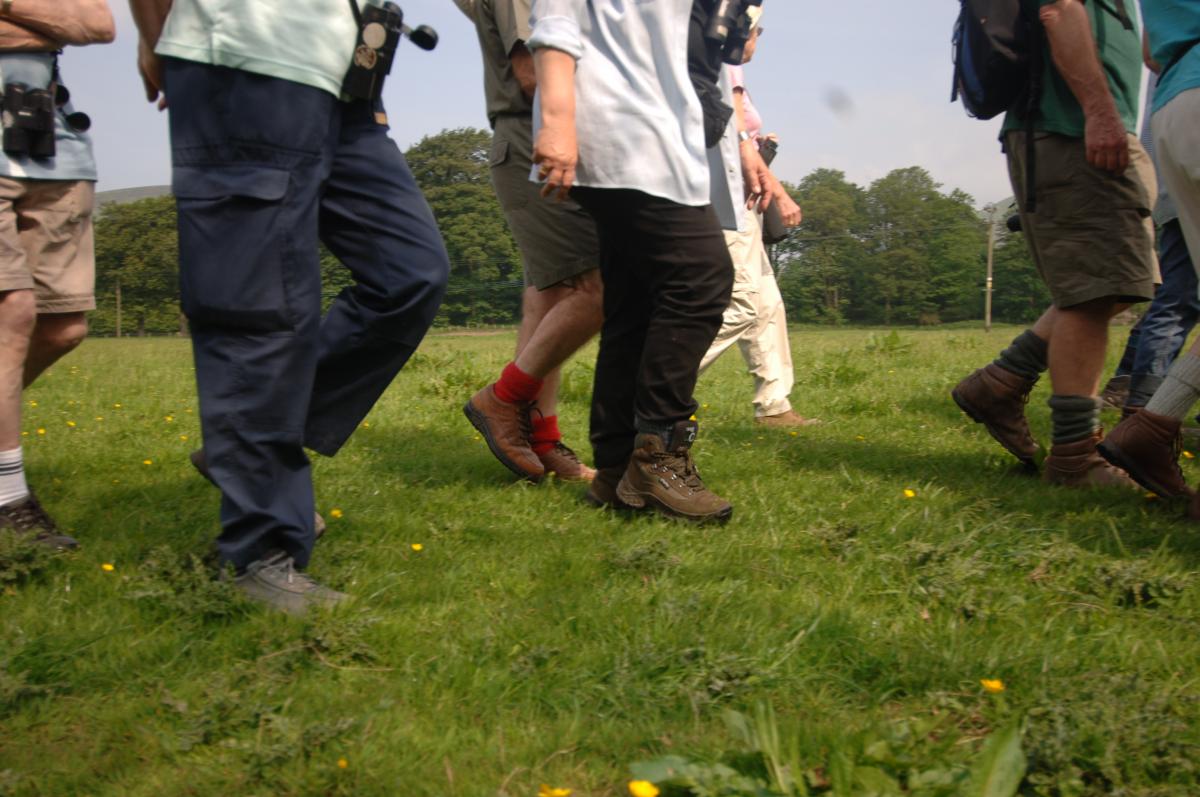 Equip yourself with:

Whilst we endeavour to keep our walk descriptions up to date as much as possible, footpaths can be diverted or closed for a whole host of reasons, many of which are for your own safety. If there is a diversion in place the alternative may not show up on a description or on a map or app you are following. If you come to a point on a walk where there is local signage asking you to follow an alternative route, please do so. Carrying an OS map for the relevant area will help you to re-join the route you are following quickly and safely. If you feel unsure about reading a map the Ordnance Survey has provided some great online resources to help https://getoutside.ordnancesurvey.co.uk/guides/beginners-guides-map-reading/ 
If you are going for a walk, it is recommended that you:
Dress appropriately - avoid denim and any other clothing that doesn't dry quickly. It is better to wear lots of lighter layers, which can be removed or added. Sturdy footwear and waterproofs are also a must.
Carry the right equipment including an Ordnance Survey map (OS Explorer OL41); compass; first aid kit; high energy snack; something to drink; mobile phone (be aware that coverage can be patchy); whistle and torch.
Always let someone know where you're going and what time you expect to be back.
Do not take any unnecessary risks.
If you are in difficulty or see someone in difficulty, please dial 999 and ask for Mountain Rescue.
To report any other incident contact:
Lancashire Constabulary 101 for non-emergencies or 999 for emergencies
Lancashire County Council also provide some very useful information on What to Expect on Public Rights of Way
Countryside / Moorland Code
From a gentle stroll or relaxing picnic, to a long distance walk or heart pumping adventure, the countryside provides every opportunity for enjoyment and relaxation. If you follow the Countryside Code wherever you go, you'll get the best enjoyment possible and you'll help to protect our open spaces now and for future generations.
Respect other people
• Consider the local community and other people enjoying the outdoors
• Leave gates and property as you find them and follow paths unless wider access is available
Protect the natural environment
• Leave no trace of your visit and take your litter home
• Keep dogs under effective control
Enjoy the outdoors
• Plan ahead and be prepared
• Follow advice and local signs
Download a copy of the Countryside Code
Other Walking Safely Advice
NFU Advice for Walkers: http://www.nfuonline.com/cross-sector/rural-affairs/access/access-news/livestock-and-rights-of-way-reducing-the-risk/
Enjoy the countryside responsibly with dogs: https://www.nfuonline.com/assets/43360
Tick Awareness
What is a tick?
Ticks are tiny creatures called parasites which feed on the blood of lots of types of animals and sometimes people.  They travel by walking on the ground and up plants, or are transported by birds and animals, then they wait for an animal or person to pass by, drop onto it or hook onto it with special hooks on their legs.
What does a tick look like?
Ticks vary in colour and in size, depending on the type of tick, whether it is male or female, and whether it is a baby, juvenile or an adult. Ticks are very tiny, with the largest (unfed) tick being 3mm.
Why are ticks a risk to people and pets?
Ticks normally choose wildlife and farm livestock to be their hosts. However, people and pets send out the same signals as the tick's usual hosts. Some ticks can carry organisms in their saliva. When they bite, the saliva can enter the bloodstream of the host and this can make them ill.
Because winters are warmer, and because there have been changes in farming methods, as well as other factors, there are more ticks about. Ticks are also spreading into new places where they weren't found before. Because of this, and because more people tend to be involved in outdoor activities, a greater number of people get bitten by ticks. This means that more people get diseases from the ticks.
Diseases passed on by ticks are called tick-borne diseases. The most common tick-borne disease to affect people in the UK and Ireland is Borreliosis, which is also called Lyme borreliosis or Lyme disease.
Be tick aware:
you could be exposed to ticks whenever you are outdoors and enjoying the countryside, even in your garden or the local park
ticks attach themselves to animals to feed and sometimes this can include people
you can prevent tick bites by walking on clearly defined paths, using insect repellent and performing regular tick checks
some tick bites can result in infection so it is important to remove ticks as soon as possible
ticks can be removed safely with tweezers or a tick removal tool
if you have been bitten or recently spent time outdoors and start to feel unwell, contact your GP
To find out more about ticks and how to protect yourself have a look at the following information from Public Health England:
Other links:
UK Health Security Agency Guidance for the Public
Be Tick Aware Leaflet published by UK Health Security Agency
---
Ribble Way
The Ribble Way follows the river from the sea near Preston to its source high in the fells of the Yorkshire Dales; 70 miles of delectable walking through an ever varied landscape. For convenience it is divided into seven easy sections with comprehensive descriptions of places passed en route such as Preston, Ribchester, Stonyhurst, Clitheroe, Settle and Horton. For those who do not wish to tackle the whole route, each section makes an easy day's walk.
Pendle Way
The Pendle Way is a 45 mile circular walk in 8 sections passing through villages like Barnoldswick, Earby and Newchurch-in-Pendle. There are also 6 smaller circular walks along the route. Information about the Pendle Way is contained in a special information pack available from Nelson Tourist Information Centre. Telephone 01282 692890.
The Lune Millennium Park
A multi-user route roughly following the River Lune from Glasson near Cockerham to Lancaster and on to Bull Beck near Caton. The section between Lancaster and the Bull Beck Picnic Site follows the banks of the River Lune and is suitable for disabled users. It follows the route of the former Lancaster to Wennington railway and is approximately six miles in length. Car parking facilities are available at Lancaster, Ladies Walk, Denny Beck, Crook O'Lune, Bull Beck, Conder Green and Glasson Dock. A leaflet on the cycle way is available from Tourist Information Centres.
Lancaster Tel: 01524 32878
Morecambe Tel: 01524 582808.
Gisburn Forest
Gisburn is the largest forest in Lancashire and is managed by Forest Enterprise. Within the forest there is a network of waymarked forest walks. These are based on existing forest roads and offer a variety of routes with a cycle network of 16km length. Contact Forest Enterprise for further details on 01229 860010 or visit Forestry England website.
Beacon Fell Country Park Trails
The Fellside Trail is a circular route on Beacon Fell provided for mountain bikes. The route takes approximately one hour to complete. Horse riding is permitted by prior arrangement with the Ranger Service. Please remember to give way to walkers and wildlife and to wear a cycling helmet at all times. For further information on horse riding permits please contact the ranger service on 01995 61693. Further information
Other Rural Rambles
Listed below are a series of pdfs that provide detailed information on other walks in the Forest of BowlandAONB.
Five Walks Around Longridge
This attractively illustrated pack details 5 walks in the area to the east of Longridge. It includes circular walks on Longridge Fell and between Longridge and Ribchester "in the footsteps of the Romans", together with a linear walk over Longridge Fell to Chipping. Copies of the packs are available for £3 from Clitheroe and Preston Tourist Information Centres, Longridge Library and Longridge Post Office.
Healthy Walk Initiatives
Organised walks (brisk or not) can have a health impact on individuals by providing an opportunity to socialise (good social networks enhance health) and a distraction from everyday stresses (stress contributes to poor health).
Walking for Health is England's largest network of health walks with over 360 active walking schemes, helping people across the country lead a more active lifestyle.
There are several organised groups in or close to the Forest of Bowland AONB, for more information visit the Walking for Health website.
Walk4Life
Walk4Life is part of the Change4Life movement that has been set up to encourage families and adults to eat well, move more and live longer, by making small lifestyle changes that add up to big health benefits.
Walk4Life is supported by Walk England and is all about helping people move and walking is a great way to start.  For details of walks visit the Walk4Life website