The Forest of Bowland Sense of Place Toolkit is a collection of examples and resources to help tourism businesses understand and benefit from the special qualities of this Area of Outstanding Natural Beauty. 

The following resources are linked to the new Forsest of Bowland Sense of Place Toolkit and can be used in your business marketing.  The original Toolkit was produced in 2016, we've now revised the Toolkit for 2020, so there is lots of new information and resources!
What is Sense of Place? 
The term  'Sense of Place' is often used to describe your feelings for a place, and the elements that make that place special to you – it may be memories of past visits, views, sounds, people, tastes, even the smell of the place!
As part of its work on Sustainable Tourism the AONB Unit used the concept of a Sense of Place to achieve several aims:
To agree on and promote the special qualities of the Forest of Bowland
To provide consistent messages for all partners to use
To increase awareness of what the area has to offer to visitors
To develop a greater understanding of the geographical area covered by the AONB, and to create a loyalty to this area by residents and visitors
or email hetty.byrne@lancashire.gov.uk if you would like a printed copy, or are interested in attending the Sense of Place workshop.
contact hetty.byrne@lancashire.gov.uk for a password
TEXT TO DOWNLOAD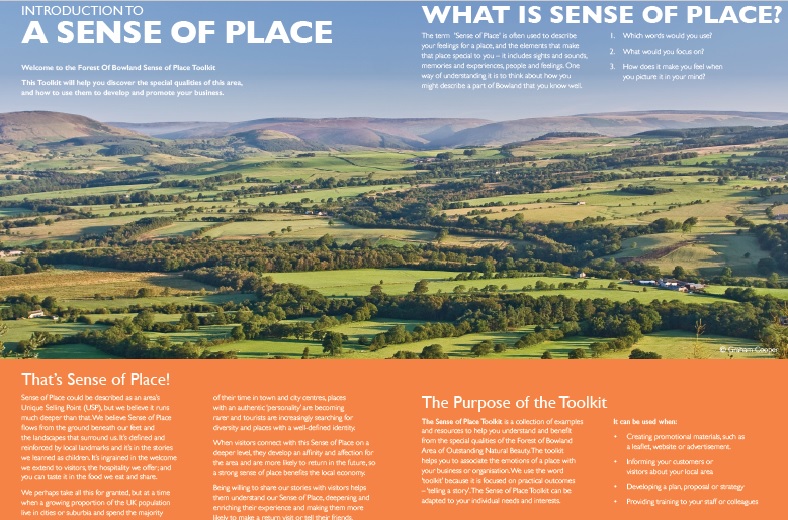 The following are cut and paste statements that summarise the special qualities of the Pendle Hill area – they are available for you to cut and paste into your own websites and marketing:

INFORMATION FOR VISITORS
LEAFLETS 

EVENTS
WEB LINKS

SOCIAL MEDIA
Facebook: @disoverbowland @bowlandaonb @pendlehillproject
Twitter: @discoverbowland @forestofbowland @PendleHillLP
For further information or for a printed copy of the Toolkit, email: hetty.byrne@lancashire.gov.uk