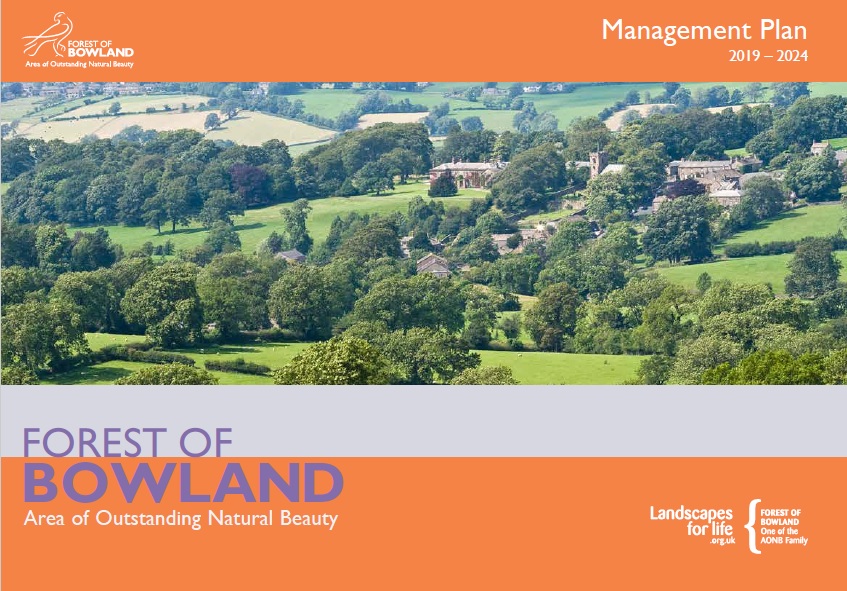 The Forest of Bowland AONB Management Plan describes the special qualities of the area which contribute to the national significance of the landscape. It identifies the major trends and opportunities for the area.
The document provides a policy framework and identifies a 5-year programme of actions (April 2019 - March 2024) to help guide the work of the AONB partnership organisations towards achieving the purpose of this plan - to conserve and enhance the natural and cultural beauty of the Forest of Bowland landscape.
Download the Forest of Bowland Management Plan:
Vision Statement
The delivery of the AONB Management Plan is guided by the following long-term vision of how the AONB will look in the future:
'The Forest of Bowland landscape retains its sense of local distinctiveness, notably the wide open moorland character of the Bowland Fells, undulating lowland farmland, clough woodlands, traditional buildings and the settlement patterns of its villages, hamlets and farmsteads. It is a landscape valued for the range of services and benefits it provides for society, with a functioning, diverse natural heritage where land management practices allow opportunity for natural processes to develop and flourish; and where partnership-working between land managers, conservation bodies, communities and businesses is focused on delivering more for nature together. The rich cultural heritage of the area is also better understood and managed; and both the nature and culture of the area help to support a resilient and sustainable local economy. The Forest of Bowland is a truly outstanding landscape, where it can clearly be demonstrated that the management of the AONB has conserved and enhanced the quality, understanding and enjoyment of the landscape for all.'

How will the AONB Partnership achieve this vision?
The action plan section of the AONB Management Plan is organised under three themes. Click each theme to view the plan's objectives:
Further Information
Management Plan Review 2018-19
During 2018 the Forest of Bowland AONB Joint Advisory Committee undertook a review on behalf of the eight local authorities in the area, Craven District Council, Lancashire County Council, Lancaster City Council, North Yorkshire County Council, Pendle Borough Council, Preston City Council, Ribble Valley Borough Council and Wyre Council.
A review group was established comprising representation from the local authorities, Natural England and AONB staff. The Joint Advisory Committee has delegated responsibility for managing the review process to a review group, which will report regularly to the AONB Joint Advisory Committee during the review.
The public consultation took place between November 2018 and January 2019 from which a draft plan was produced.  
For further information about the Management Plan please contact elliott.lorimer@lancashire.gov.uk