In 2013 the AONB's Sustainable Development Fund gave out eight grants totalling just over £21,000. For the first time the grants were awarded via Champion Bowland as this enables the grants to be offered for a 12 month period, rather than just for the accounting year. Although this means that not all the projects were completed by March 2013 it does mean that the groups operating the projects have had more flexibility in delivering their schemes and securing their match funds – which is often a complicated task.
Farming Now and Then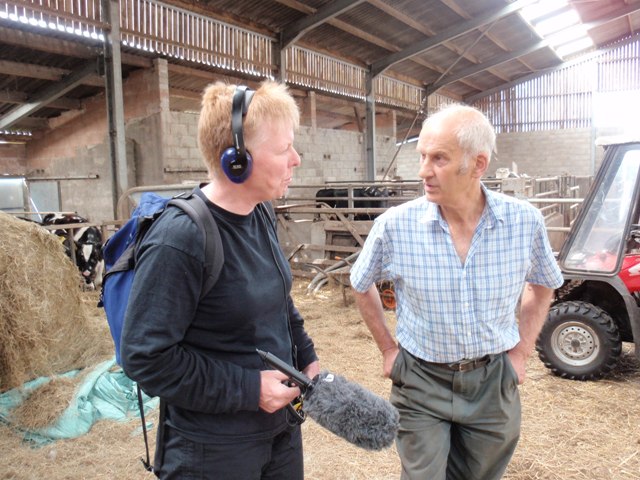 An experimental oral history project run by artist Anita Burrows from Higherford Mill. The project engaged with young farmers to gather their views of farming today in order to contrast them with recollections from farming families in the Roeburndale valley. Unfortunately the project stalled, but it did generate some interesting ideas from the young people involved.
Dunsop Bridge Village Hall
The committee were able to complete the improvement works to their building this year thanks to a further £4000 of support from SDF. Matched with a grant from the Lancashire Environmental Fund the committee have refurbished the building and improved energy efficiency to enable it to become a sustainable resource for this small community and its many visitors.
Yorkshire Dales Millennium Trust
They extended their very successful People and the Dales project into Bowland for a pilot period, in order to test out the potential for similar outreach work to take place in the AONB in the future. A grant of £2735 enabled YDMT to organise and run very successful visits for people from deprived urban backgrounds to come to Bowland and experience activities in the outdoors at Beacon Fell, Laund Farm, Gisburn Forest, Cobble Hey Farm, New Laund Farm and Gazegill Farm.
LESS (Local and Effective Sustainable Solutions)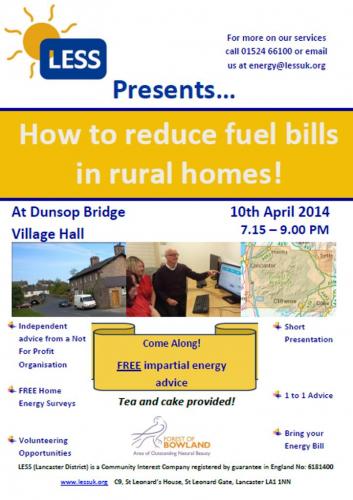 A Lancaster based social enterprise, and with SDF support of £4337 they have been able to extend their work into the AONB. This has involved identifying and recruiting volunteers to be trained up as home energy assessors. The volunteers are able to support residents in reducing their energy bills by switching providers and also by introducing home energy saving measures. So far volunteers have been recruited and trained at Dunsop Bridge and it is hoped that other communities will also be able to get involved in the future. A second energy efficiency project was supported when SDF granted £1000 to Diane Hubbard's research into reducing energy loss through chimneys.
Bird Hide
RSPB are involved with an important wading bird 'hot spot' at Long Preston wet grasslands, just outside the AONB boundary. Working with a partnership of conservation organisations, landowners and businesses, RSPB are utilising a small grant of £1500 to match other funds in order to develop new wader scrapes and to construct a fabulous bird hide which will be ready to use later on in 2014.
Bleasdale Parish Hall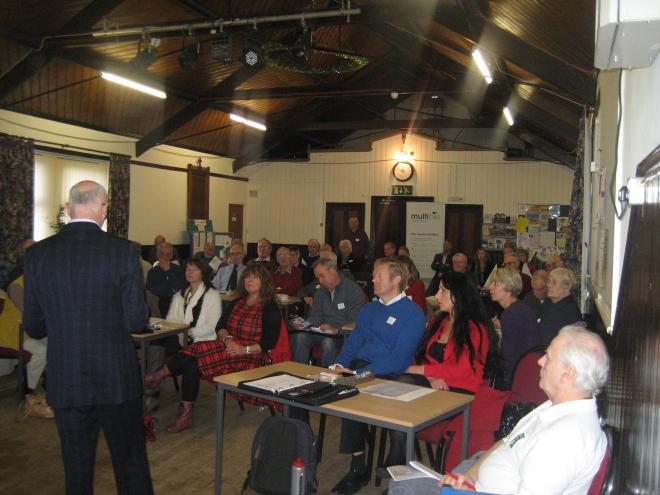 The parish hall committee at Bleasdale received £2492 towards a new wood pellet powered heating system and for running a seminar for other village halls around renewable energy. The seminar was organised by Community Futures and was extremely well attended: showing that there is a real interest in community buildings becoming more sustainable.
Thornley Community Space
Finally the community at Thornley received a grant of £5000 to assist in the refurbishment of their old school building to become a new facility for this dispersed community which lies between Chipping and Longridge. They want the building to serve residents and visitors and hope to make it a sustainable gateway to the AONB in the future.