Pendle Hill Landscape Partnership Volunteer Week!
Come along and celebrate National Volunteers' Week with us! The Pendle Hill landscape is a wonderful place to spend time, and volunteering across it is even better!
As part of National Volunteers' Week which runs from 1st to 7th June 2018, we will be delivering a number of activities and sessions within the Pendle Hill Landscape Partnership. Please come along to any of the sessions and find out more about volunteering opportunities and the wider Pendle Hill Landscape Partnership. New volunteers welcome and no prior experience needed!
Friday 1st June 1pm – 4pm. Join us at Spring Wood for a family friendly bushcraft session! Children must be accompanied by a parent/guardian throughout the session. All resources and materials provided but prepared to get muddy! BOOKING IS ESSENTIAL.
Saturday 2nd June 10am- 12pm. Join the Friends of Spring Wood at their regular monthly volunteer session at Spring Wood and get involved in some wildflower planting, as well as getting the opportunity to learn about this great group! All materials provided but please bring your own gloves if you have them. All Under 18s must be accompanied by a parent/guardian. Please wear suitable outdoor clothing and footwear. 
Sunday 3rd June 9.30am – 3.30pm. Come along and get involved in our Pendle Hill Volunteer's session as we start some path repairs, drainage work and remove some tree guards from part of the Pendle Way that goes from Barley up the hill. Meet at Barley Car Park. All tools provided but please wear suitable outdoor clothing and sturdy footwear. Bring extra layers and waterproofs, as well as lunch and snacks for the day. All Under 18s must be accompanied by a parent/guardian. BOOKING IS ESSENTIAL.
Tuesday 5th June 4.30pm – 7.00pm. Drop in to see us at the Unity Wellbeing Centre in Nelson to find out more information about our volunteering opportunities across the Landscape Partnership. Come along and ask us questions about the projects, future events and activities. Opportunities range from practical conservation to Pendle Radical research, archaeology to species surveys. There are also 'Get Into Volunteering' opportunities for groups so please come and see us if you are a group leader from Pendle, the Ribble Valley or Burnley.
Wednesday 6th June 10am-2pm. Join us for a walk with volunteers across our lovely Pendle Hill landscape. The route will be approximately 6 miles and we will meet at Downham Car Park. The route won't go to the summit but will provide you with some great views and great paths. Please bring lunch as we will aim to have that en route. All Under 18s must be accompanied by a parent/guardian. BOOKING IS ESSENTIAL.
For more information about any of the sessions or to book a place please email volunteer@pendle-hill-lp.co.uk or call 01200 448000.
---
PENDLE HILL AWARDED NATIONAL LOTTERY FUNDING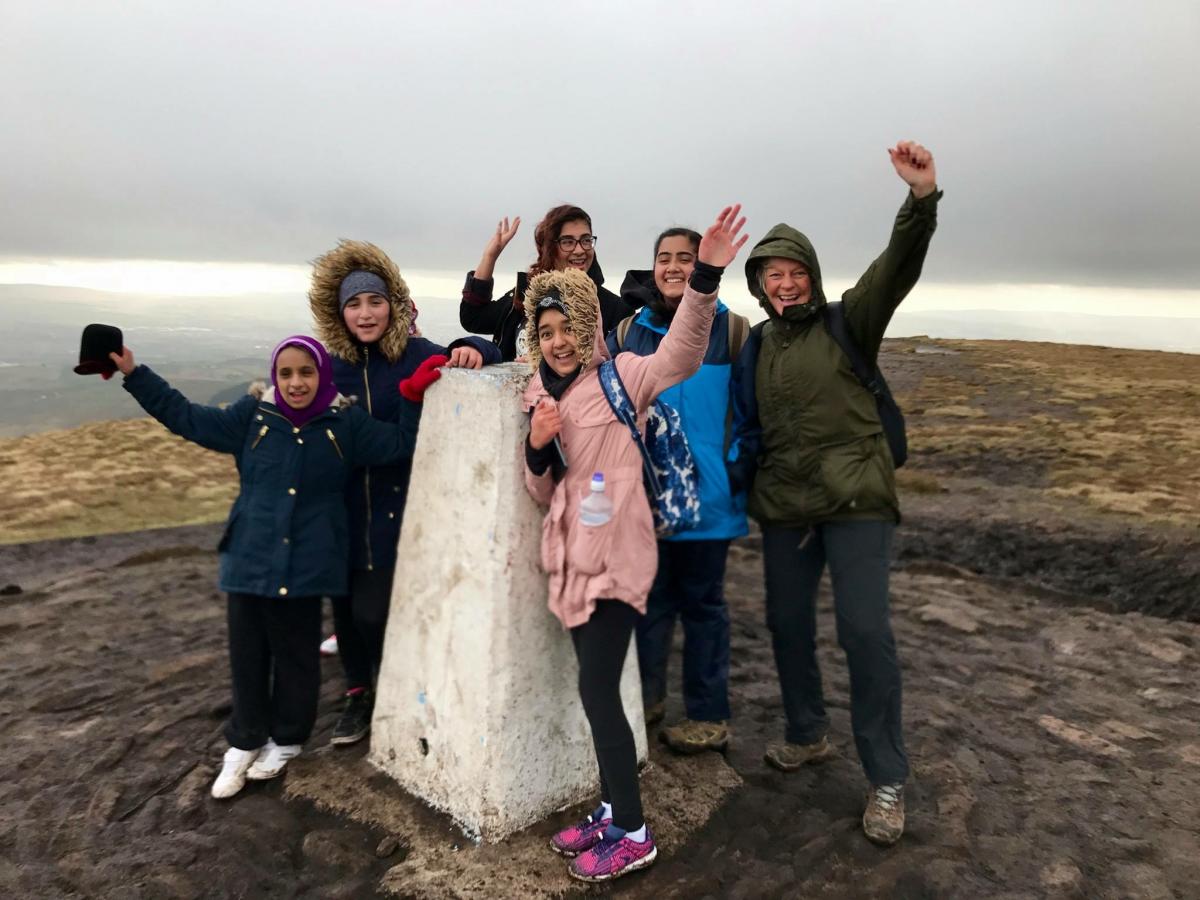 Thanks to money raised by National Lottery players, the Pendle Hill Landscape Partnership has secured £1.8million from the Heritage Lottery Fund (HLF) for its ambitious and exciting four year programme of heritage activity based on and around the iconic hill. The scheme aims to reconnect people with their heritage and the landscape of this special place.
The partnership is led by the Forest of Bowland Area of Outstanding Natural Beauty and the National Lottery grant award is the result of three years of consultation and development. Also on board with the scheme are local councils, farmers and landowners, arts and environment organisations, and community groups.
The chair of the partnership, Ralph Assheton, said "I am very excited that after all the hard work put in by the team and partners, that the National Lottery has confirmed this funding. Now the hard work really begins!"
Plans for year one of the scheme include
an archaeological excavation looking for evidence of the real Malkin Tower
upgrading of footpaths and creation of a walkers' seat and panorama on the summit of Pendle Hill
three artists in residence working alongside projects to explore the subjects and engage with more people
volunteers helping with conservation projects including tree planting and woodland management
20 day visits to the area for the innovative People Enjoying Nature (PEN) project
Volunteers researching and celebrating a number of Pendle Radical stories
Launch of a new website and visitor information
Sue Bowers, HLF Deputy Director of Operations, said: "Pendle Hill is famous for its eerie past and tales of the witch trials draw in many visitors every year. But there's a lot more to Pendle and thanks to National Lottery players this project is designed to open up, preserve and share other parts of the areas incredible heritage including the founding of the Quaker movement by George Fox. The benefits of this project are far reaching and will offer a range of apprenticeships and trainee positions for local people helping to reconnect them to their natural heritage."
The photo below shows members of the Board of the Pendle Hill landscape partnership celebrating news of their successful grant application. 
About the Heritage Lottery Fund
Thanks to National Lottery players, we invest money to help people across the UK explore, enjoy and protect the heritage they care about - from the archaeology under our feet to the historic parks and buildings we love, from precious memories and collections to rare wildlife. www.hlf.org.uk.  Follow us on Twitter, Facebook and Instagram and use #HLFsupported.
Further Information
You can keep up to date with all our news and events by visiting the project Facebook page, 'pendlehillproject' and also the exciting new Pendlefolk site which will be launched soon at www.pendlefolk.com
For background information about the Pendle Hill area and the projects that will be happening you can download the 'Landscape Conservation Action Plan' here or view it at
https://issuu.com/lancashire1/docs/pendle_hill_lcap_web
Coming Soon
The landscape partnership will soon be recruiting for a project team. Details will be made available on our Opportunities page where you can also sign up to join the Pendle Hill Volunteers group.
For more information contact the AONB Office on 01200 448000
In the meantime have a look at our development phase work