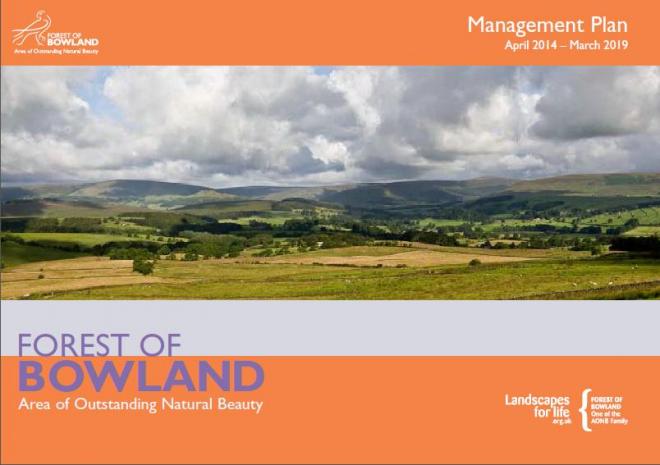 Find out more about the Review of the Current Management Plan 
The Forest of Bowland AONB Management Plan describes the special qualities of the area which contribute to the national significance of the landscape. It identifies the major trends and opportunities for the area.
The document provides a policy framework and identifies a 5-year programme of actions (April 2014 - March 2019) to help guide the work of the AONB partnership organisations towards achieving the purpose of this plan - to conserve and enhance the natural and cultural beauty of the Forest of Bowland landscape.
Download the Forest of Bowland Management Plan:
Please contact hetty.byrne@lancashire.gov.uk if you are a partner and would like a login to update progress on actions in the plan.
Vision Statement
The objectives and actions of the AONB Management Plan need to be guided by a longterm goal, or vision. The previous Management Plan set out a vision of how the AONB should ideally look into the future. The same vision has been carried forward to this Plan largely unchanged, as the aspirations it describes are still very much at the heart of local AONB stakeholders' values and concerns.
The vision for all partners to work towards is that:
The Forest of Bowland AONB retains its sense of local distinctiveness, notably the large-scale open moorland character of the Bowland Fells, traditional buildings and
settlement patterns of villages, hamlets and farmsteads.  Natural and cultural heritage is sympathetically managed and contributes to a sustainable and vibrant local economy.  The management of the AONB has improved the quality of the landscape for all.

How will the AONB Partnership achieve this vision?
The following Forest of Bowland AONB 'outcomes' were developed and agreed by the JAC in 2011, as part of the AONB Unit's Business Plan. To offer 'read-across' between this and the strategic plan for the National Association for AONBs, the following four outcomes have been adopted to provide the framework for the Management Plan, helping the Partnership to achieve the successful delivery of the Plan and ultimately the above vision for the AONB: