**MEADOW DAY IS NOW FULLY BOOKED, IF YOU WOULD LIKE TO BE ADDED TO THE WAITING LIST, PLEASE FOLLOW THE TICKET LINK BELOW & WE WILL BE IN TOUCH IF ANY TICKETS BECOME AVAILABLE.**
This year's National Meadow Day is having a change of venue to the western side of Bowland at the Gathering Fields, Over Wyresdale and is running over the weekend 2nd to 3rd July.
Saturday 2nd July – National Meadow Day: BOOK TICKETS HERE (note: booking is essential)
Sunday 3rd July – Northern Scythe Competition: BOOK TICKETS HERE (note: booking is essential)
Venue for both:  Swainshead Hall Farm, Over Wyresdale, LA2 9DN
Entry: £2 per adult, children free payable on the gate, both on the Saturday and Sunday (monies raised will be donated to Champion Bowland) (PLEASE NOTE:  When you book the tickets via the TryBooking link above it will say that the tickets are free, as we are not set up for taking online payments.  However, we will kindly ask for payment of £2 per adult on the gate.)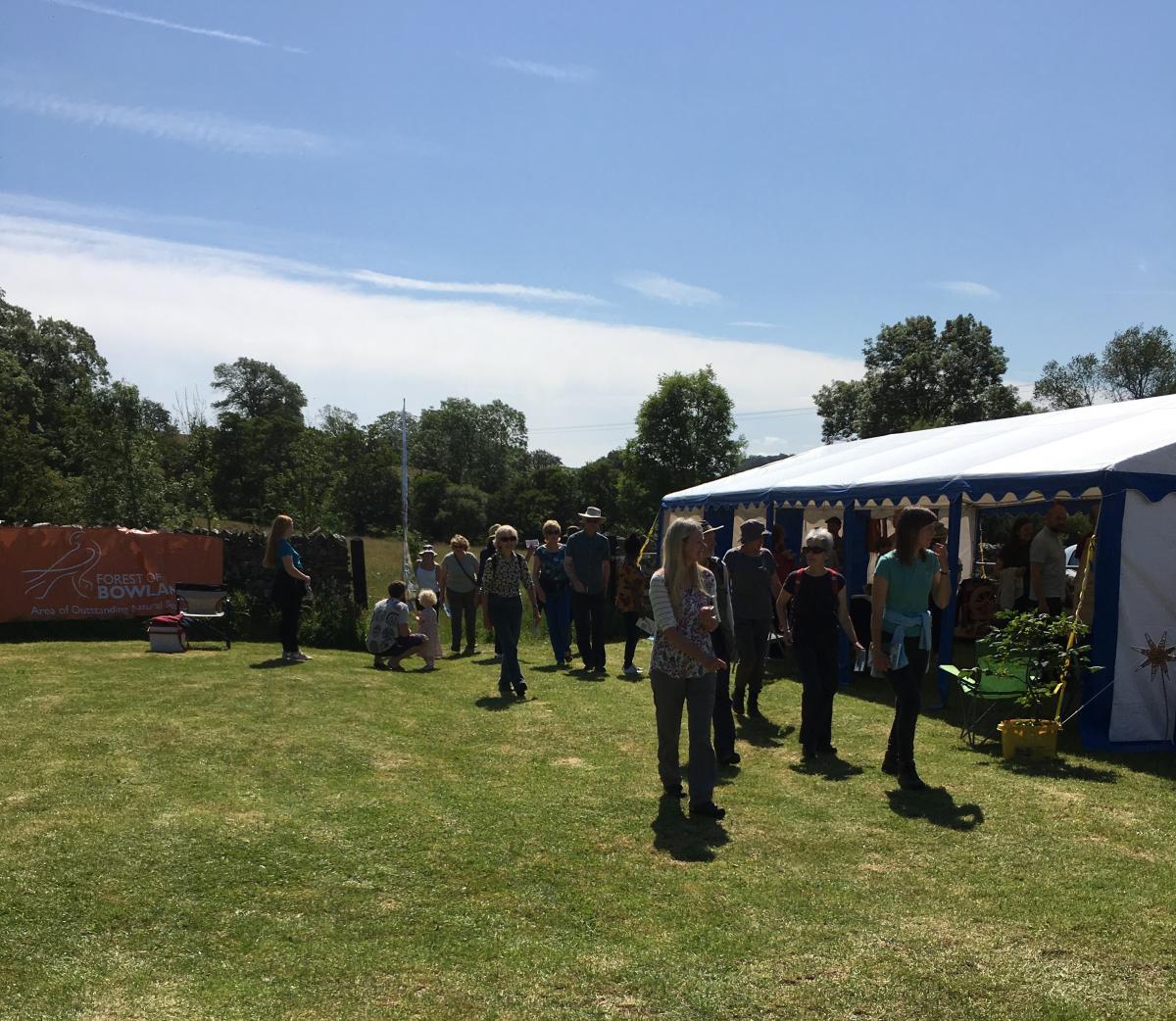 Join us on the Saturday for guided tours in the meadow, meadow plant school, scything and hay time demonstrations, herbal tea and herbal essences, range of local craft stalls and demonstrations, local meadow plug plants to purchase, music and more!  Stalls & activities include:
Bee & Blossom Apothecary and Wild Medicine walks with Helen Leece
Sara Denis embroidery
Helen Dawson spinning 
Slaidburn Archive
Goosnargh Gin
Wildlife Trust/MyPlace
Phoenix Rising Project
Forest of Bowland AONB & Moth Trapping
Meaburn wildflowers
Willow weaving 
Story Telling through movement with Bowland Fitness (a great activity for the youngsters)
On the Sunday you can enjoy watching the Northern Scythe Competition, with lovely Lancashire grass to mow, a large practice area, individual and team comps with lots of medals!
Camping and bunk barn accommodation will be available with an evening fire and bbq on the Saturday (please bring your own food supplies for the bbq).
You can stay in comfort in the bunk barn for £20ppn (please remember to bring your bedding), bookings for the bunk barn will be taken directly with Helen at the Gathering Fields: www.thegatheringfields.co.uk
Camping and van parking will be available at £10ppn with access to camp kitchen, toilets and showers. For more information email jim@mcvittie.me.uk
Refreshments & parking available.
With thanks to Studio Bakery who will be supplying the cakes on the day.
ACTIVITIES THROUGHOUT THE DAY: 
10.30 Bumblebee ID in the meadow
11.00 Family story time to movement
11:30 Wild medicine walk
12:00 Plant School 
13.00 Balm making demo 
13.30 Bumblebee ID in the meadow
14.00 Wild medicine walk
14.30 Family story time to movement
15.00 Plant school 
Sign up for activities on arrival.