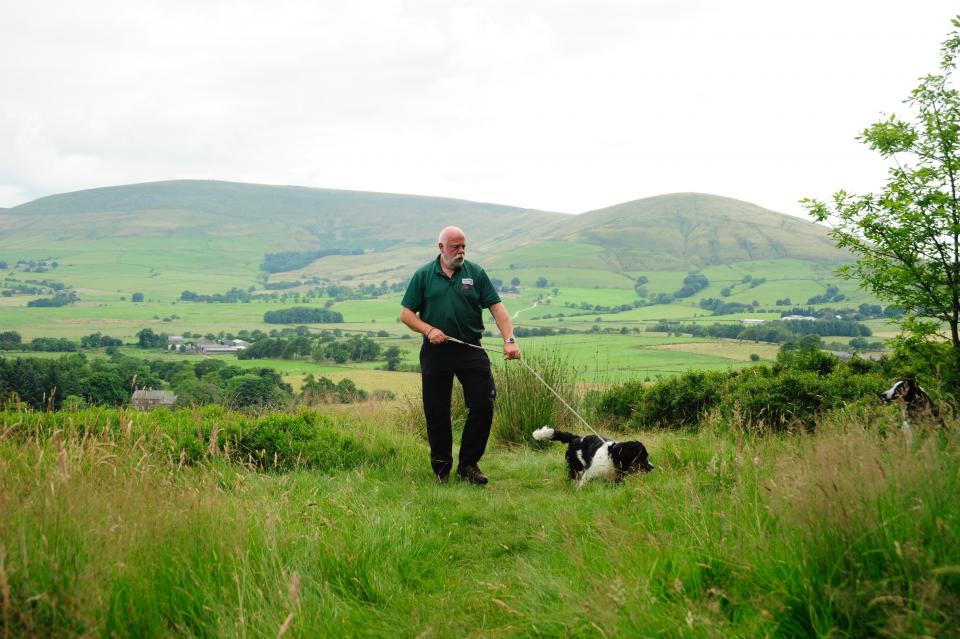 Feature by Mark Sutcliffe talking to head ranger Andrew Greenwood 
Blessed with hundreds of miles of footpaths and bridleways, the Forest of Bowland is a paradise for walkers – and their four-legged friends. Add to that, the open access land on the felltops and uplands and this remote corner of Lancashire is a truly exhilarating place to explore on foot.
And while walkers are welcome to wander across huge swathes of the AONB, there are some guidelines that all walkers – especially when accompanied by their dogs, do need to be aware of.
The rich valleys of Bowland are home to sheep and cattle and pets need to be kept under close control near livestock. On the open fells, livestock may be present, but also bear in mind that dogs can disturb ground-nesting birds.
So the rule of thumb should be: if in doubt, keep your dog on a lead.
Also remember that while the remoteness and solitude of this huge natural wilderness are a major part of its appeal, walkers need to take responsibility for their own safety.
The weather is often unpredictable and mobile phone signals are unreliable so in the unlikely event of injury, it can be a while before help is at hand.
I really hope you and your pet enjoy the wonders that the Forest of Bowland AONB has to offer, but please bear the following in mind to keep you, your dog and the precious wildlife of Bowland safe. See the top tips list at below.
Lancashire County Council's Head Ranger Andrew Greenwood shares one of his favourite walks in the Forest of Bowland
Langden Castle
Distance 6km/3.7 miles, Height gained 150m/400ft, Time 2.5 hours, Grading: Easy-moderate
Map: Ordnance Survey Outdoor Leisure 41 Forest of Bowland 1:25000
This is one of my favourite walks in Bowland – taking visitors into the heart of the Area of Outstanding Natural Beauty where the scenery and wildlife are fantastic.
The return route to Langden Castle and back is around 3.7 miles (6km).
Take waterproofs, spare clothing, sturdy footwear, sun protection, map and compass (and know how to use them!)
Don't forget about your dog. Take enough water and some tasty treats for it. High sugar snacks for an energy boost are also a good idea.
The first section of the walk is on well-made tracks and is easy walking. The land is all owned by United Utilities and dogs must be kept on leads from March 1 to December 10 each year.
1. Park at Langden Intake on the road between Dunsop Bridge and Lancaster. As you leave the car park there is a memorial stone for airmen killed in plane crashes in Bowland during World War 2 and the Berlin airlift.
2. Follow the tarmac track westwards through the avenue of trees. Keep an eye and ear out for Dippers in the river and Siskin and Redpoll in the trees. Go past the Water board building and through the kissing gate. Keep to the track as the view ahead opens up to reveal the Langden Valley. Look out for grey wagtails by the river and meadow pipits and skylarks up on the fell.
3. Go through a field gate and continue on the track to where it splits. The left hand track, following the Public Right of Way is fairly level and gives good views of the river environment and the upland oak woodland. The upper track is steep in places and takes you to the edge of the moorland plateau. If following this section, keep a look out for merlin, ring ouzel, red grouse and don't forget the possibility of a hen harrier.
4.The tracks re-join, then continue to Langden Castle – unfortunately not a real castle, but still a welcome shelter from the rain (common) and sun (rare). Langden castle makes a perfect terminus and is a lovely spot for a picnic. After admiring the views retrace your route back to the car park at Langden intake.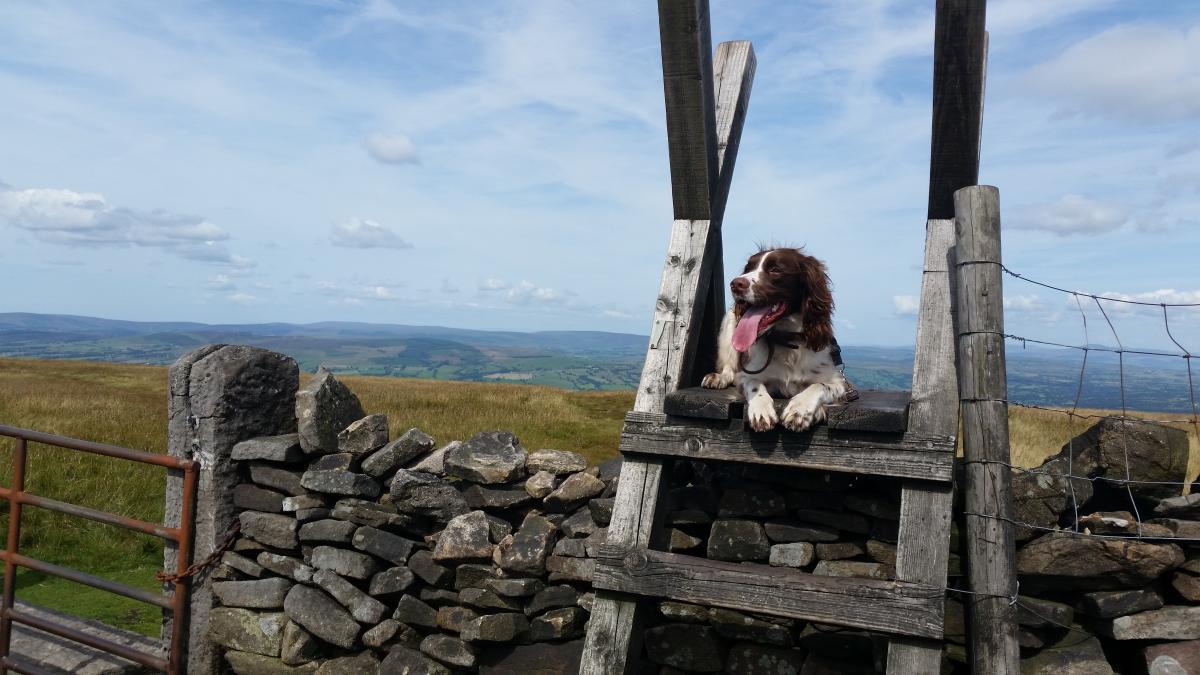 SIX MORE GREAT PLACES TO WALK YOUR DOG
Beacon Fell Country Park
Ample parking, miles of trails and no livestock to worry about
Pendle Hill
Park at the Nick and wander along the well-worn track for amazing views
Gisburn Forest
Way-marked woodland trails through this popular recreation resource. www.forestry.gov.uk
River Lune
Low level walking along this lovely river. Parking available at Crook O'Lune Picnic Site.
Hodder Valley
Scenic riverside walks in the pretty wooded valley – start at Whitewell, Dunsop Bridge or Slaidburn
TOP TIPS FOR DOG WALKERS
Dog waste
Please clear up after your dog. Most dogs will toilet within a couple of hundred metres of the start of the walk. Please bag the waste and remove it and dispose of it responsibly.
Dog welfare
Ticks are common, mostly on the fells but also in farmland. They can cause illness and discomfort both in humans and dogs. Medicines are available that help prevent ticks from attaching themselves to the dog. 'Tick hooks' are widely available, which are great at removing any ticks that have attached themselves to the dog – or you! In summer, there is a real risk of dehydration for you and your dog and natural sources of water can dry up. Carry sufficient water for yourself and the dog. Many pet shops stock collapsible drinking bowls.
Dogs on leads
On Open Access land, shown on the Ordnance Survey Outdoor Leisure maps as a beige/yellow wash, dogs are required to be on a 2-metre (6ft) non-extending lead at all times when in the vicinity of livestock and from March 1 to July 31. In some areas this has been extended to December 10.
Dogs and cattle
On farmland, please keep your dog on a lead and keep to the public right of way, following any way-markers. Unfortunately a handful of walkers are injured by cattle every year. These walkers are often accompanied by dogs, and it is the dog that the cattle are reacting to. Latest advice from the National Farmers Union recommends keeping the dog on a lead up to the point where an attack is certain, then releasing the dog and making your way to safety. The dog will outrun the cattle and can usually look after itself.
Injuries to your pet
I always carry a first aid kit with supplies suitable to treat the dog: including a fabric muzzle – if the dog is in pain through injury or illness it may not appreciate being handled.
Safety in the Hills
When you need emergency assistance, dial 999 and ask for 'Police', then 'Mountain Rescue'. Consider having your mobile phone set up for texting 999. A text can sometimes be sent when a voice message cannot. Text 'Register' to 999 and follow instructions in reply text. Always let someone know your route and expected time and point of return.
Access restrictions
Not all landowners close their land for shooting, but dog-walkers may come across a shoot at any time from September 1 (start of partridge season) to February 1 (end of pheasant and partridge season)
Some upland areas in Bowland will be closed to the public for grouse shooting – on various dates – from August 12 to December 10.
Some Open Access areas do not allow dogs at all (except on Public Rights of Way) so make sure you know before setting out.
There is no game shooting on a Sunday. Information on access restrictions and closures can be found at www.openaccess.naturalengland.org.
Public Rights of Way are NOT affected by these closures.
Access Land Restrictions (added 11.04.18)