When you're burning up the calories among the hills and dales of Bowland, it's nice to know you're never too far away from somewhere to recharge the batteries with a sticky bun decent cup of coffee…
Cycling in the Forest of Bowland is a serious business. It was on the demanding climbs and steep descents of Pendle and the Bowland Fells that Sir Bradley Wiggins prepared for his Olympic and Tour de France 'double' and the area continues to attract road cyclists and mountain-bikers from right across the northwest.
Visitors to the Forest Bowland can explore the same quiet country lanes for themselves by following one of the many self-guided road cycling routes that criss-cross the AONB.
Within the AONB, cycling between the Ribble and Hodder valleys inevitably involves a pretty serious climb. Committed hill-hunters will be drawn to the gnarly ascents of Waddington Fell (from either the Newton or Waddington side) or Pendle Hill – both of which involve several hundred feet of steep ascent.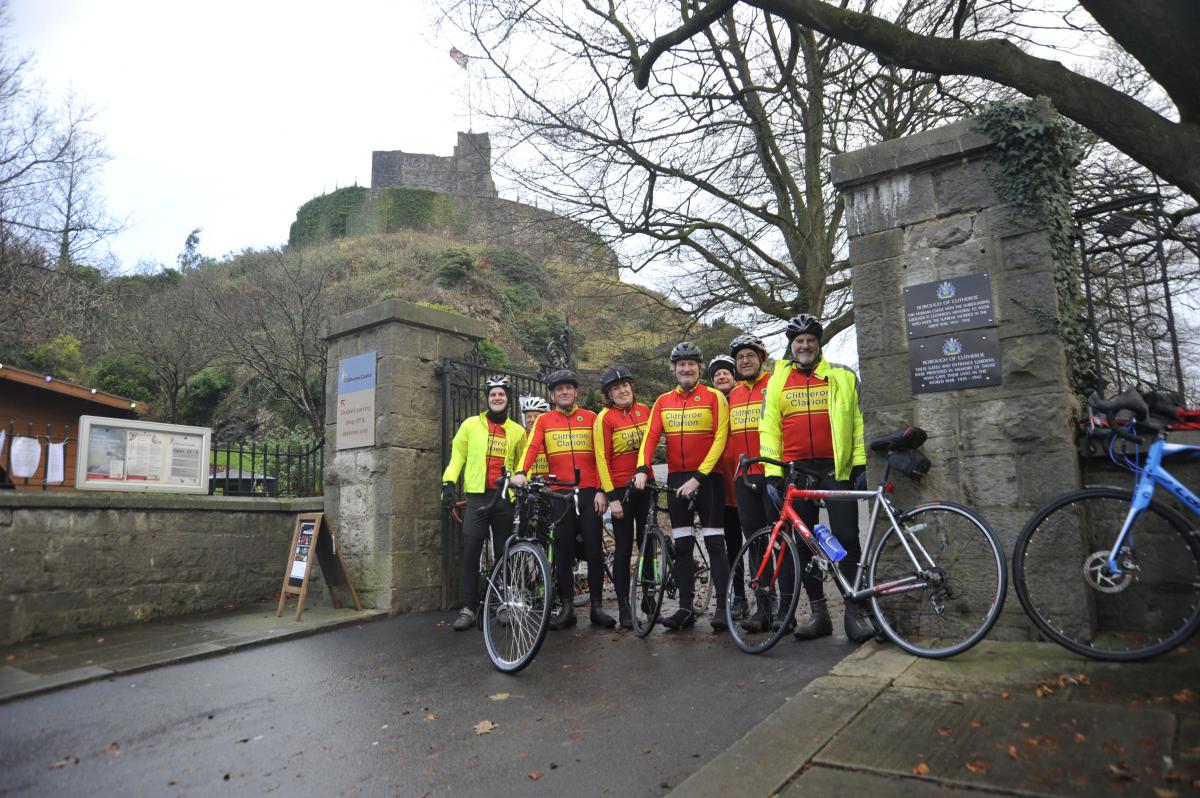 Less intimidating but still scenically spectacular are the passes of Bowland Knotts and Cross o' Greet – which can both be tackled on a 40-mile circular route between Bentham and Slaidburn. The iconic Trough of Bowland is another popular road route that attracts keen cyclists year-round.
Hundreds of club cyclists head to the quiet lanes of Bowland each week – including members of the local cycling club: Clitheroe Clarion, which has a long and illustrious past dating back to 1923.
One Clarion member: Alan Ramsbottom, from Clayton-le-Moors rode to a very creditable 16th place in the 1963 Tour De France – almost 50 years before Bradley Wiggins became the first Brit to win the world's most prestigious bicycle race in 2012.
These days, club members are happy to have a gentle run out on Saturday morning, which inevitably involves stopping off for breakfast or lunch at one of Bowland's many roadside cafes and teashops.
They are a friendly bunch and actively welcome potential new members or visiting cyclists to join them for a relaxed ride. Contact: clitheroeclarion@gmail.com

TOP 10 CYCLIST-FRIENDLY TEASHOPS
The Old Vicarage Tea Room, Tosside BD23 4SF
07809 489282
Unanimously voted their favourite coffee stop by Clitheroe Clarion members, this welcoming café and bistro offers some of the best views in Lancashire, stretching from Pendle to Pen-y-gent. Generous portions and a warm welcome guaranteed. Open from 10.30 to 5pm most days (Sundays 11am-4pm).
The Barn, Scorton, PR3 1AU
01524 793533
Quirky Café, garden centre and gift shop on the main street through the pretty village of Scorton. Popular with cyclists and walkers with easy access to short local walks and longer routes up into the hills. They take afternoon tea very seriously here – incorporating sandwiches, cakes, pastries and scones – so it's advisable to book your slot in advance at www.plantsandgifts.co.uk 
Country Kitchen Cafe, The Assembly Rooms, Waddington, BB7 3HP
01200 429364
A quirky little café right at the heart of one of Lancashire's prettiest villages. Home-made sandwiches, pies and cakes plus hearty breakfasts available most days. Ice cream hatch does a roaring trade in summer. Limited outdoor seating. Very popular with cyclists and an ideal base to wander through the beautifully tended riverside Memorial Gardens in the centre of the village.
Riverside Tea Rooms, Slaidburn, BB7 3ES
01200 446398
Perfectly located village café next to car park and the grassy banks of the River Hodder in the timeless village of Slaidburn in the heart of the Forest. Sandwiches, cakes, tea and coffees plus more substantial meals available in the upstairs restaurant. Ample outside seating in the summer months.
01200 446387
One for the mountain-bikers, this. Friendly, welcoming café majoring on huge slabs of home-made cake and generous servings of tea or coffee. A welcome reward after a morning spent pounding the singletrack trails through the Forest
OFF-ROAD CYCLING
Mountain bikers will find a network of dedicated trails at the Gisburn Forest Hub near Slaidburn where more than 30km of forest trails and tracks are waiting to be explored.
The basic skills loop is ideal for beginners looking to hone their bike-handling skills before tackling the more ambitious 9.5km (5.5 miles) Bottoms Beck Trail which includes steep curvy descents and a scenic riverside ascent.
More accomplished riders can test themselves on a more demanding 18km (11 miles) double loop known as 'The 8' with optional Black routes to spice things up still further.
Download a selection of road rides suitable for riders of varying abilities from: http://forestofbowland.com/cycling-information
Download the Forest of Bowland teashop trail leaflet: https://forestofbowland.com/files/uploads/pdfs/fob_teashopleaf0612lores.pdf
THE LAST CLARION HOUSE
Nestling among the pastureland near Newchurch on the eastern side of the whaleback ridge of Pendle, there's a popular cyclist's café which is the only one of its kind in the whole of England.
Resembling a village cricket pavilion or wooden summerhouse, this unique building is the legacy of a national movement which opened up access to the countryside and recreation at a time when leisure time remained the preserve of the moneyed elite.  Erected in just a few years before the outbreak of The Great War, this much-loved building is the last remaining Clarion House in Britain – a monument to the heyday of working class liberation and a testament to the solidarity of socialism in East Lancashire.
The Clarion movement was established by the Independent Labour Party to foster greater enjoyment of the great outdoors by working people for whose rights it was committed to fight.  Recreation was one of many fronts upon which the ILP campaigned to improve the lot of its members and Clarion houses began to spring up in rural locations around the country.  Traditionally offering shelter and sustenance to cyclists and walkers keen to escape the industrial towns and cities and enjoy some much-needed respite from the factories in which they laboured six days a week.
Run by volunteers on a cooperative basis, Clarion Houses dispensed limitless quantities of tea and home-baked cakes without any regard for profit. To some, these meeting places were dens of socialism and sedition. To their grateful patrons, they represented an opportunity to enjoy their new-found freedoms to enjoy some leisure and recreation.  The war took a heavy toll on the working class communities of East Lancashire, but the interwar period saw this iconic building welcoming around 500 men, women and children to enjoy healthy recreation and tea and cakes every weekend.
The movement dwindled with the improvement in the working conditions secured by the unions and the rise of consumer culture after the Second World War, but as Clarion houses the length and breadth of Britain closed their doors, their legacy lives on the dozens of cycling clubs across the country that still proudly retain the word.
And in Barley, the Clarion House continues to open its doors to visitors every Sunday. Still run by a committed band of volunteers, all are welcome to this friendly oasis, standing in its own gardens with extensive views across the meadows to Blacko.
Tea is still served from huge pots and the seating is on communal benches to foster conversation among friends and strangers alike. There is no parking onsite, so the only way to visit is on foot or by bike.
HOW TO FIND THE CLARION HOUSE
From Newchurch, head east up the steep hill along Jinny Lane for almost a kilometre. The Clarion House is the last building on the left before the crossroads at Roughlee; Grid Reference: SD 831396. The Clarion House is open every Sunday from 10am to 4pm.