Update: December 2017
Community Archaeology update
Over the last two summers UCLan archaeology student, Mike Woods, has completed summer internships with the LP development team. Mike will be doing a presentation of his findings at Pendle Forest History Group's meeting on 20th December, but here we are able to publish his report  plus two academic posters (Malkin Tower  and Watermeetings) which summarise his findings.
Mike was very keen to survey the Watermeetings site as it appeared to be an unscheduled ancient monument: an Iron Age hillfort. If it is one of these fortified settlements it will help to build up a picture of the network of settlements that existed around Pendle, and which have been so far overlooked by archaeologists. A full geophysical survey has now been completed and we hope to carry out further investigations here in the future.
The Malkin Tower site is part of the infamous Pendle witches story, supposedly the site of a witches coven held on Easter Sunday in 1612, just prior to the women's arrest. Mike was able to use geophysics to survey the site and to identify an area which will be excavated by an international field party next summer.
We plan to continue with a number of explorations and training sessions as part of the Pendle Hill community archaeology project over the next four years, and we hope to collaborate with more student interns in that period too. Please get in touch if you want to know more or find us on Facebook.
---
Update September 2017
We have now completed our development work and submitted a Stage 2 application to the Heritage Lottery Fund for £1,866,700. This will part fund four years of activity and employ a small team of 3 full time and 3 part time staff. The Heritage Lottery Fund will consider our application at their Regional Committee meeting in December, and if successful we can start activity in the Spring of 2018.
The overall aims of the partnership are to:
restore, enhance and conserve the heritage and landscape of Pendle Hill
re-connect people with the landscape and their past
bring together the two sides of the hill
and to create a sustainable future for the environment, the heritage and our visitors
There are 12 projects within the programme, plus three cross cutting 'threads' which gather all the work, and the communities on the two sides of the hill together. The projects are described below:
1. Traditional Boundaries will restore and maintain hedgerows and walls which have been identified by our surveys as being most in need of attention, due to their high landscape or biodiversity value, and in some cases because they may additionally be useful in reducing overland flow and the natural management of flood risk. Over 6km of boundaries will be restored on agricultural landholdings by contractors and volunteers. The Dry Stone Walling Association will lead this project and will run more than 40 training days for both hedging and walling skills and plan for 21 people to gain level 1 certificates.
2. 'Wild About Pendle Hill' will work with local farmers and volunteers to survey, restore and manage at least 6 important sites for wildlife and priority habitats across the Hill (eg species rich grassland and moorland.) These sites have been identified by our surveys as requiring restoration and/or management. We will also engage over 200 people in community wildlife activities such as species surveys, habitat conservation or creating new homes for wildlife. The project will offer training and support for volunteers and organise 2 bio-blitzes.
3. Pendle Woodlands and Invasive Non-Native Species (Pendle WINNS) will extend and create four new woodlands; manage six neglected woodlands, and seek to control invasive non-native species. This project, led by Ribble Rivers Trust, will increase biodiversity, natural capital and the natural flood management of the LP area. We will work with farmers, landowners and communities to deliver the project, with volunteers contributing on over 100 days on over 30ha of woodland.
4. Pendle Hill Summit will be a flagship project for the LPS in year 1. Elements of the project include restoration of 2.6km of heavily used and currently eroded footpaths leading to the trig point; restoration of over 10ha or eroded bare peat and badly gullied peatland; the construction of a seating area for walkers out of dry stone walls; and the installation of a new and creative interpretive feature, describing the panorama to be seen from the top of Pendle at 557m. The works will be carried out by contractors and volunteers, and we will look to run a number of engagement days informing visitors about the works; there will also be two Gathering artists involved in the peat restoration and the panorama feature, engaging more than 30 people in creative workshops.
5. Access for All will improve and upgrade four 'gateway sites' around the Hill, providing better information for visitors about accessing the heritage of the wider LP area. It will also create new concessionary routes and upgrade existing paths (3.8km in total) to enable a dispersal of visitors away from the most heavily used parts of the LP area and towards less well-known heritage sites. Walkers of all ability will be catered for with the provision of a Tramper. Over 100 volunteer days will be involved in path restoration work and the monitoring of routes.
6. Trainees is an exciting opportunity to provide 10 apprenticeship placements with employers around the LP area. This will enable young people to learn heritage skills in the workplace and at college, leading to seven level 2 and three level 3 qualifications in areas such as countryside management, farming, heritage information and arts development. Working with Myerscough College and local employees the LP scheme will identify placements and students, and provide support and team building days for the apprentices and a subsidy to employees committing to the scheme.
7. Discover Pendle Hill will bring sustainable tourism practice to the LP area, engaging with businesses and volunteers and developing new visitor opportunities around heritage and landscape. Working with the new 'Pendlefolk' digital platform and its volunteer editorial board we will support the development of a sense of place for the area, and link this to the businesses, a team of 10 volunteer ambassadors and 4 new events. We also plan to develop 'visitor giving' to help sustain future heritage based activity in the LP area.
8. 'What's a Hill Worth?' is a piece of research around the concept of ecosystem services and the value that landscape offers to our economy and community services. We will focus on the value the landscape, and people's experiences in it, provide to our health and wellbeing. We will then use this to construct investment cases to help attract future support for people's improved access to, and the conservation and enhancement of, natural heritage.
9. Pendle Hill Fund is a community grant scheme which will support small scale landscape and heritage projects developed in the LP area by community groups, schools, businesses and parish councils. A pot of £80,000 will support over 20 organisations and lead to the restoration of heritage features and special sites and support heritage events. The fund will be administered by a small team of LP Board members, and training will be provided at 7 events, to over 50 people applying for support from the fund to enable them to generate sustainable plans, interpretation and other funding bids.
10. People Enjoying Nature (PEN) will offer 90 supported activity sessions in the Pendle Hill landscape to individuals and groups who are dealing with mental health issues and social isolation. Run in conjunction with the NHS this project will link up with our research work on 'What's a Hill Worth?' and will give 600 participants the opportunity to learn new skills, meet new people and explore the heritage of the LP area.
11. Pendle Radicals will explore Pendle Hill's heritage of radical thinkers and non-conformists: from investigation through creative interpretation to celebration. Led by Mid Pennine Arts, the project will focus engagement on young people, bringing history to life and building a sense of place and a sense of pride. 100 training and activity sessions and 12 creative commissions will engage and entertain 5000 people, and will produce a new tourist product: the 'Radicals Trail' for visitors to learn more about our extraordinary social history.
12. Community Archaeology is an opportunity to uncover Pendle Hill's hidden history, especially its early history of settlement, invasions and enclosures which have left their marks on the landscape of today. We will provide skills training to local groups and volunteers to enable them to research and survey their local sites and to join in with a number of planned investigations at key sites including Malkin Tower, the supposed site of the Pendle witches coven, and Portfield Iron Age hillfort. Working with the Archaeology department at University of Central Lancashire we plan to support 400 volunteer days and 20 training events, and at least 4 more summer internships in the LP area.
Threads
13. Volunteering and Learning will co-ordinate these opportunities across the scheme and support projects engaging with our target audiences of young people, BAME communities and hard to reach groups from towns which are within sight of Pendle Hill.
14. The Gatherings are artistic commissions which will be delivered in tandem with project activity (eg an archaeological excavation or the building of a dry stone wall) which will help to engage new audiences, and to interpret the activity in new and exciting ways; whilst building cohesion, facilitating dialogue, and creating shared points of view and a new sense of place. In-Situ plan to run 11 commissions for artists and they will also organise an annual Gathering event bringing together all our activities, achievements and plans for the future.
15. Interpretation for the scheme and projects will be co-ordinated and commissioned centrally in order to provide a clear brand and visible presence for the LP scheme in the area. Products will include a mobile Shepherd's Hut acting as a studio, information point and volunteers' hub; a Heritage Hotspots app; site and visitor information panels; a co-ordinated web and social media presence; and traditional press and publications.
We have to secure another £732,145 cash and £122,552 of 'in kind' support to take us up to our total bid of £2.72m, but we are well on our way with that task.
In the interim period, ie October 2017 to March 2018, we still have lots of work to do and opportunities to get involved. Jayne Ashe will continue to organise the twice monthly Pendle Hill volunteer days so if you have time free please get in touch on 01200 448000 or complete the form on our Opportunities page. We still have more fundraising to do, and have a few plans afoot, so keep in touch via our Facebook page or sign up for our Newsletter to find out more.
Email contacts: cathy.hopley@lancashire.gov.uk and jayne.ashe@lancashire.gov.uk
---
Update on PEN Project - September 2017
As part of the development phase, we organised and delivered a 12 week People Enjoying Nature Pilot programme, with the help of other local facilitators and experts. People Enjoying Nature (PEN) is the outreach project within the Pendle Hill LP which will offer individuals who are dealing with mental health issues and social isolation a number of supported opportunities to get out into the Pendle Hill landscape and take part in different activities and learn new skills. We hope that these opportunities will be enjoyed by the participants, build social networks and improve mental health and well-being.
Within this project we are working alongside NHS Lancashire Care Foundation Trust East Lancashire Community Restart, which is a service that is focused on improving quality of life, promoting opportunities and improving the outcomes for local people. This partnership provides great benefit to the project, and will allow the opportunities to be more widely advertised and better evaluated.
The pilot programme was a great success, engaging with 30 individuals who had a lot of positive feedback about the sessions and who are enthusiastic about further PEN opportunities. We must thank East Lancs Community Restart for all their assistance, as well as the external facilitators who delivered some of the sessions and the volunteers who helped run the sessions.
After the pilot study we completed an evaluation report, which we hope can be used effectively for future PEN work. You can download the report here.
---
---
Update June 2017
We are delighted to be able to publish our Audience Development Plan for the landscape partnership, you can download it here!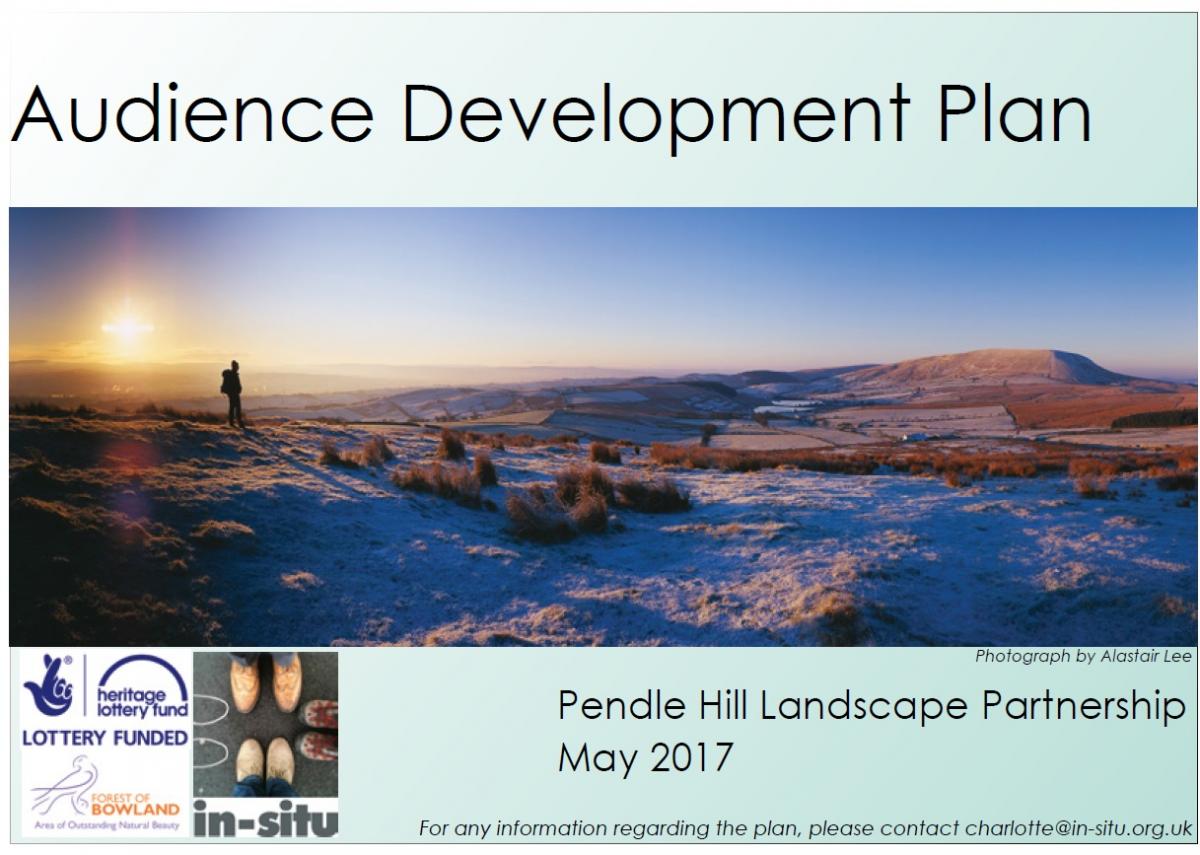 This document is the result of a large amount of consultation and active research by our friends at In-Situ Arts, in particular Charlotte Hughes who has worked on this as part of her internship, so a big thanks to her!
Audience development – actively looking to engage with a wider range of people – is key to the success and principles of our landscape partnership. There are nearly 200,000 people living within an hour's walk of Pendle Hill and yet many of these, especially the young and people from a black Asian minority background (BAME) do not venture out to enjoy and benefit from this spectacular countryside. In addition people dealing with issues around mental health and social isolation also find it difficult to get out and enjoy the landscape.
The Pendle Hill LP scheme aims to engage more with these target groups, and the audience development plan and accompanying Community Engagement Kit provide us with plenty of information, resources and practical advice to make our activities accessible, interesting and relevant. Please take a look, try things out and let us know what you think!
Update March 2017
Have a read of our first e-newsletter - with all the latest opportunities for getting involved!
Update February 2017
Our Pendle Hill volunteers have been meeting regularly (1st Sunday and 3rd Wednesday each month) and have been involved in a range of activities at Gazegill Farm, plus learning how to do hedge-laying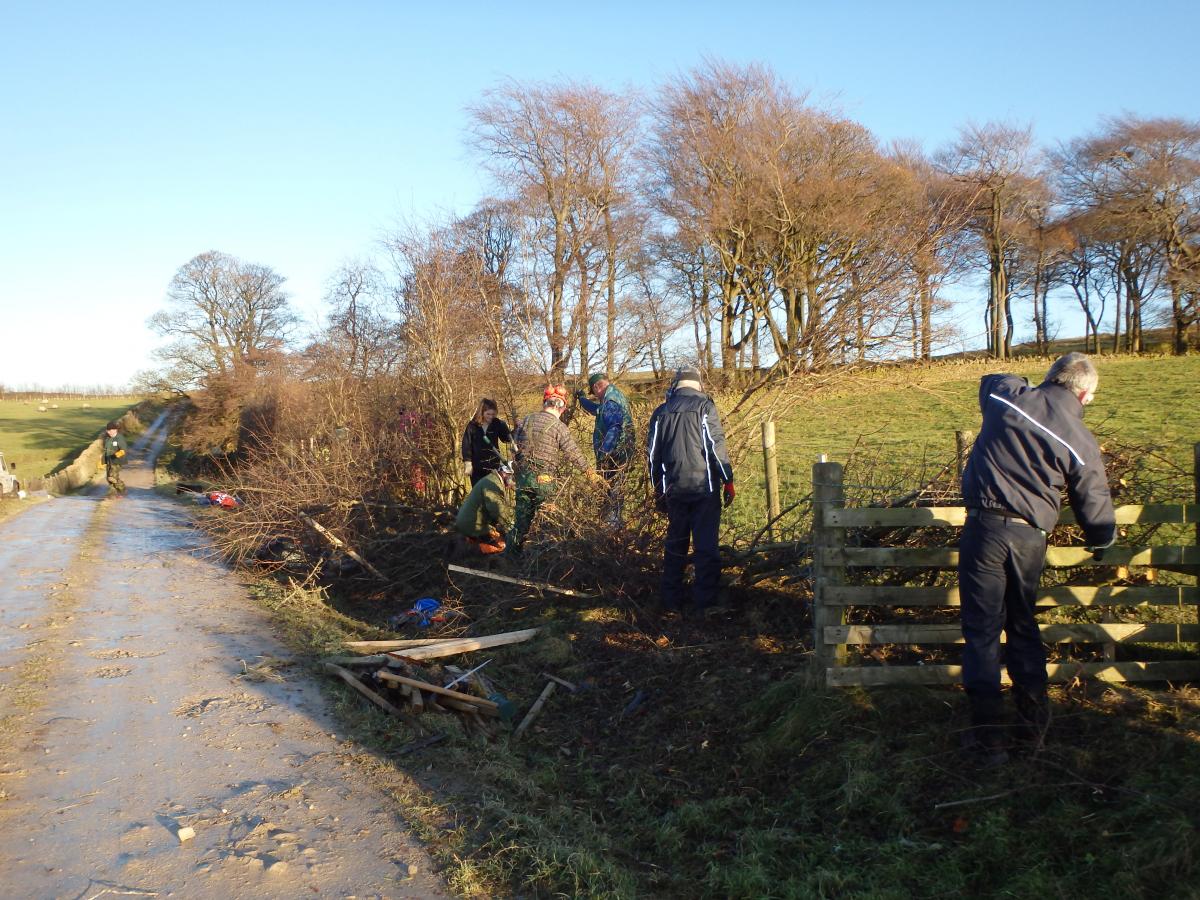 and finding out more about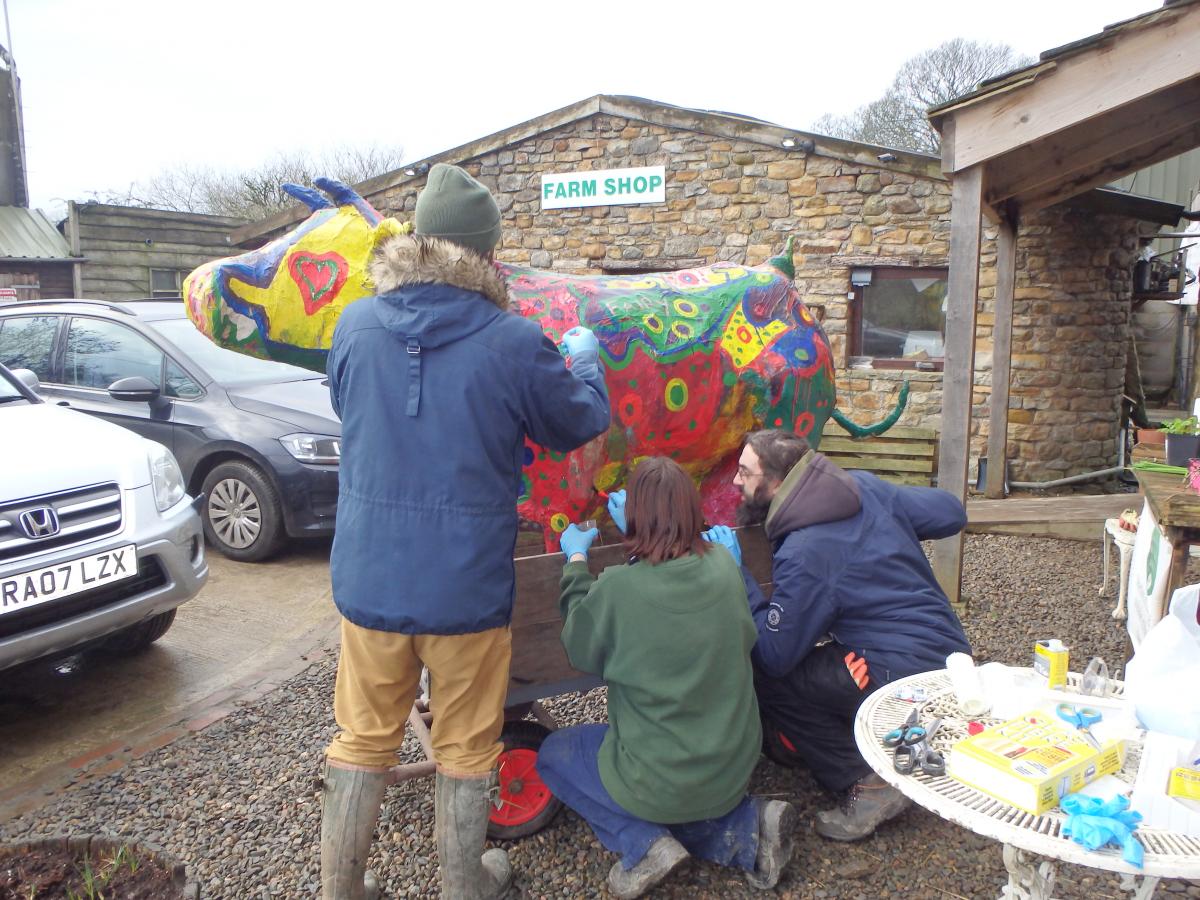 badgers at Spring Wood. If you would like to join them please do sign up on our Opportunities page or contact Jayne.ashe@lancashire.gov.uk Jayne has also been busy planning a pilot project for this summer - working with a mental health team we will be providing 12 days of 'purposeful visits' to the area for groups and individuals dealing with social isolation and mental health issues. The project will test out some ideas and then will be rolled out as part of our programme in 2018.
We are pleased to announce that three new partners have joined the Landscape Partnership and will each be leading a project in the future.
In Situ Arts are co-ordinating the Gatherings - a number of artist's commissions which will work with projects throughout the programme, aiming to inspire people, engage new audiences and creatively interpret the area and its heritage.
The Dry Stone Walling Association will run the Traditional Boundaries project which will include training in both walling and hedge-laying, as well as administering a grant scheme for landowners and farmers to restore hedges and walls around the Pendle Hill area. We recently calculated that there are over 400km of hedgerows and 300km of walls in the LP area!
Mid Pennine Arts are going to co-ordinate the Pendle Radicals project that seeks to re tell the stories from some famous, and some not so well known people who were inspired to take action and change the world! They will work promarily with young people, but also engage with volunteers, researchers and artists and they hope to produce exhibitions, videos and publications.
For more information about what the project is up to visit our Facebook page or contact Cathy.hopley@lancashire.gov.uk.
---
Update November 2016
The partnership has recently held its fifth Board meeting and a very successful Gathering at Barley Village Hall, which was attended by over 50 people. Visitors were able to find out more about our plans for archaeology, volunteering, visitor management and landscape characterisation.

We are pleased to now able to publish our first consultant's report on the Landscape Character of the Pendle Hill area. This has been prepared by Robin Gray and you can download the report in two parts here:
Context      Landscape Character Types     Map
Following on from our recruitment we are now pleased to announce that Jayne Ashe has been appointed as Assistant development officer for the Pendle Hill landscape partnership. Jayne is a recent graduate of Sheffield University and lives in the Ribble Valley. She will be working on a number of developing projects including the Story Map, the PEN project (focussing on providing outdoor opportunities for people suffering from isolation or mental health issues) and the setting up and supporting the Pendle Hill Volunteers. This last group is open to anyone who'd like to get volunteering, and will offer a variety of activities including practical nature conservation tasks, visitor management and species recording. The group will meet twice a month, for more details sign up on our Opportunities page, or contact jayne.ashe@lancashire.gov.uk, or find details of events on our Facebook page.
---
Update August 2016
The project is now recruiting for a graduate to act as an assistant development officer for 12 months – see our Opportunities page for more details or go to Lancashire County Council website.
Our Visitor Management research is now underway and is being undertaken by consultants from Fourth Street and Heritage Naturally. As part of this research we want to find out more about our current visitors to the Pendle Hill area and so we are carrying out a survey at various places around the hill including Barley, Downham, Spring Wood and the Nick of Pendle.
If you are visiting the area between 15th August and 9th September but do not meet a surveyor, please fill in our on-line form here to tell us more about your visit: https://www.surveymonkey.co.uk/r/pendle
If you include your e-mail address you will be entered into a prize draw for a copy of Jon Sparks' book 'Hike and Bike Bowland'
Update July 2016
Have a read about what's been happening so far during the Development Stage of the Pendle Hill Project - this update brings you two Pendleside detectives who are gathering evidence for a 'case' that will make its mark for generations....
---
31 October 2015 - £2 million grant for Pendle Hill
The Heritage Lottery Fund have announced that the Pendle Hill Landscape Partnership is one of 13 distinctive landscapes, stretching from Orkney to Cornwall, to be awarded a total of £28 million, to protect heritage and to reconnect people to where they live.
Sara Hilton, Head of the Heritage lottery Fund North West, said "This project is designed to open up, preserve and share the many part of this area's incredible heritage, including the founding of the Quaker movement by George Fox. The benefits of this project are far reaching and will offer a range of apprenticeships and trainee positions for local people."
The £2m for Pendle Hill includes a Development grant of £156,400 which will enable the AONB to draw up detailed plans for the projects which will then be delivered between 2018 and 2021. There will be lots more opportunity to involve and consult with residents, visitors and local groups during the next 18 months so please get in touch to share your views.
Pendle Hill Landscape Partnership
Pendle Hill is a very special corner of the Forest of Bowland AONB. Set apart from the main fells, Pendle Hill stands alone and this perhaps increases its dominance of the landscape when looked at from both sides. At 557m it is not quite the tallest hill in Bowland, but it's certainly one of the most popular to climb. Sitting as it does, so close to the urban areas of Nelson and Burnley, Pendle Hill traditionally attracts large numbers of day visitors, and this can cause problems such as congestion and erosion. Together with a slow loss of habitat due to climate change and the intensification of farming; increased pressure on the traditional villages from modernisation and development; plus a gradual loosening of the ties with the past: the heritage of Pendle Hill is under threat!
In order to redress the effects of some of these issues, the AONB is gathering together a new landscape partnership for a 120 sq km area of the hill and its surrounds and is bidding for £2.5m of Heritage Lottery Funds.
Our proposal is to conserve and enhance the Pendle Hill area, (see map) to re-connect people with their landscape and their past, to safeguard the area's wildlife and heritage, and to improve people's access to this popular countryside area. Weaving through the programme and gathering together the two sides of the hill, will be a creative and digital thread, providing exciting opportunities for people to get involved and to be inspired by this special place.
Update July 2015
In the summer of 2014 the project asked seven artists to carry out some creative consultation for the developing Landscape Partnership. They each spent a day on Pendle Hill talking to people and working with individuals, and recording their perceptions and experiences of the landscape. One pair – Kerry Morrison and Autumn Knight (who was visiting the area from the USA) created an installation and filmed it; others used sound, photography and drawing to capture the information and the people they met.
The result is an intriguing short film, put together by Martin Seddon – take a look here.
Update June 2015
The Forest of Bowland AONB has now submitted a bid for funds to the Heritage Lottery for the Pendle Hill Landscape Partnership Scheme and we await a decision from them this Autumn.
Before the application was submitted a Partnership Board meeting and a community Gathering were held at Barley Village Hall on 12th May to share the Partnership's plans for the Pendle Hill area and to gather people's views. The Gathering event was well attended and feedback was supportive.
Participants had chance to vote for their favourite photo, to share a story or memory as part of our 'Pendle Hill Story Map' and to make a glass tile of their favourite place or aspect of the hill with Redcurrant Glass.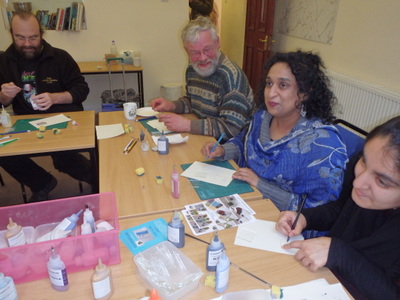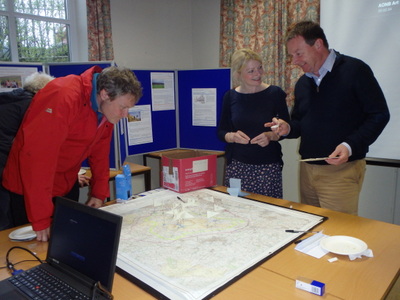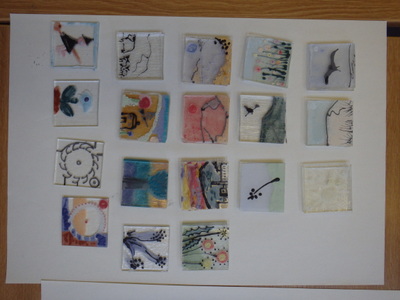 The programme will have a thematic approach:
Projects that improve the environment
Projects that build the economy
Projects that provide opportunity for everyone
If we are successful in our application to HLF, the Pendle Hill LP scheme will embark on a development phase in January 2016, and delivery of projects will run from 2018-2021.
Environment projects will include:
Repairing the network of dry stone walls and hedgerows that give the landscape its characteristic appearance
Surveying and bringing into management our special wildlife sites, and seeking to link these with farmland managed for biodiversity
Interpreting the area's important geology and the contribution this has made to the area and its economy
Managing the Pendle Hill Fund to support community-led projects focusing on heritage, landscape and the environment, and generating income to the fund via Visitor Giving and sponsorship
Gathering projects – a series of arts commissions
Economy projects will include:
Developing visitor hubs at established 'honeypots' using digital technology and traditional methods to inform people, to reduce pressure on over used sites and to reduce conflicts. We will also improve access for all by promoting key routes in order to disperse visitor pressure and by providing routes for all abilities
Offering apprenticeships for young people in traditional rural and heritage skills
Researching the value of Pendle Hill's 'ecosystem services' and its contribution to people's health and wellbeing
Gathering projects – a series of arts commissions
Projects providing opportunity for Everyone will include:
Supporting a series of local history group surveys into village-wide house histories to create a digital archive
Delivering community archaeology projects and heritage placements: investigating the Iron Age hill fort at Portfield and the secrets of the Sabden Valley, and using digital techniques to widen understanding and interest
Creating a series of projects researching and interpreting the Pendle Radicals: free thinkers and non conformists
Developing training, education and outreach work (particularly focussing on urban, disadvantaged communities) to introduce new audiences to the area, building understanding and confidence to enable people to access and enjoy the countryside
Managing the programme's interpretation materials based on the area's 'sense of place' and a strong brand
Gathering projects – a series of arts commissions
If you would like to find out more about the plans, or get involved please contact cathy.hopley@lancashire.gov.uk