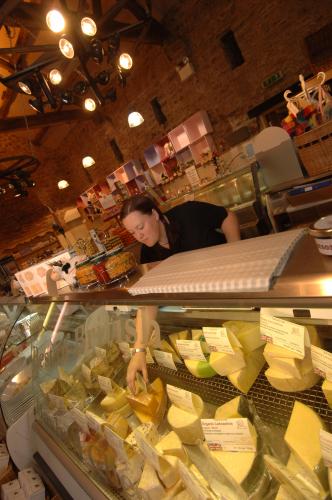 You can purchase much of the local produce listed in the local produce directory direct from the producer or by phone or mail order. Some producers however do not have the facilities to sell from site and sell their produce to local delicatessens, farm shops, butchers or at farmers' markets, markets and supermarkets. Many quality local butchers serve as retail outlets to meat producers and farmers across Bowland, who are selected for their skill and expertise to provide cuts of the finest quality. The focus for many of the producers is to put quality above volume to enable the creation of an excellent meat product with traceability from farm to fork. When visiting your butcher, why not ask what local meat they have available?
There are several high quality farm shops in and around Bowland. The farm shops mostly stock their own produce including meat, dairy, eggs, vegetables and fruit.To provide a full range of fresh quality produce, farms also buy in from other local and regional producers.
Examples located in and just outside the AONB include:
Bashall Barn, Bashall Eaves
Cheesie Tchaikovsky, Clitheroe
Chipping Farm Shop, Chipping
Country Harvest, Ingleton
Fairfield Farmshop, Clayton le Dale
Greenland's Farm Village, Tewitfield
Huntley's, Samlesbury
Also, visit village post offices and shops as many offer a variety of local produce as well as village cafes, pubs and restaurants who often champion local produce.