Enjoyment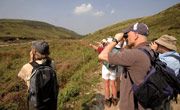 Community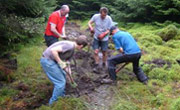 Partnership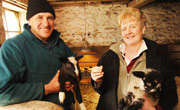 Community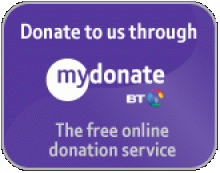 Did you know that Champion Bowland is a small charity which works to enhance the outstanding landscape of the Forest of Bowland AONB? It provides easily accessible small grants (up to £750) for local projects which benefit the environment, local communities and visitors. Champion Bowland raises funds from visitor donations, charitable activities and other sources. It also benefits from any profits earned by its trading subsidiary, Bowland Experience Ltd.
At the Annual General Meeting of Champion Bowland held last November the Trustees said goodbye to their retiring Chair, Jonty Collinson. Jonty had been involved in Champion Bowland since its inception in 2012 and had helped greatly in organising and supporting projects locally, especially the Tramper projects around Scorton. The Trustees have since appointed Paul Reynolds of the Traddock Hotel in Austwick as Chair of Trustees and appointed Phil Dykes, who recently retired from the Lancashire Wildlife Trust, as a new Trustee.
Since last Autumn Champion Bowland have awarded one new grant to Lancaster Bee Keepers for their planned new 'pollinator patches' and wildflower meadows in Caton and Hornby. (insert image)
If you have a project in need of funds, check here to see if you meet the fund criteria http://www.championbowland.org.uk/index.php/small-project-funding
If you are a keen fundraiser then why not adopt Champion Bowland as your local charity – we have collection boxes available or you can donate by text with Just Giving or online with BT MyDonate: just search for Champion Bowland or visit our fundraising page http://www.championbowland.org.uk/index.php/fund-raising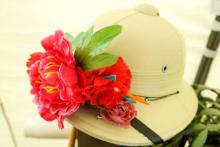 Join Bowland Explorers for a free, family friendly, magical adventure in the forest with Wild Rumpus, the creators of Just So Festival. Join the Explorers Club and get a personal invite to this wondrous, one off event on 12th March. 
The Bowland Explorers have been busy since last July attracting new members to this club dedicated to exploring the magnificent Forest of Bowland.  If you haven't come across these wonderfully eccentric, pith helmet wearing, folks, then you have missed a treat, but there's still time.  A very special event of exploration and discovery, assisted by the fantastic Wild Rumpus, will take place on 12 March.  Join us in the quest to find the Explorers missing founder, Gertrude Fulshaw Smythe.  By invite only, visit www.midpenninearts.org.uk/bowland-explorer to get yours.
Latest news:  The Bowland Explorers will be setting up camp at Brockholes Nature Reserve on Sunday 28 February!  Join Senior Explorers Cath and Lady Shonarella for FREE family friendly activities between 10am and 4pm.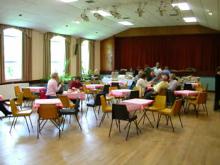 Two of this year's supported projects have already delivered their activity using grants from the AONB: the village hall in Bolton by Bowland has been refurbished and this has increased its energy efficiency, thus contributing to its economic and environmental sustainability. See what they get up to here https://www.facebook.com/boltonbybowlandvillagehall/
Burton in Lonsdale village also built a new sports pavilion with our support: the SDF grant enabled them to invest in infrastructure to install renewable energy systems in the future, thus making it a sustainable and income generating scheme. Although the pavilion is outside the AONB the community it serves lies largely within our boundary.
Sadly, we are unable to offer Sustainable Development Fund grants to projects in 2016. After 10 very successful years the grant scheme is now taking a break. A decision was made by the AONB Joint Advisory Committee that the AONB Partnership funding is needed elsewhere to support delivery of other Management Plan objectives.  We are happy to signpost communities to other grant schemes so please contact us if you are in need of fundraising help: cathy.hopley@lancashire.gov.uk
Partnership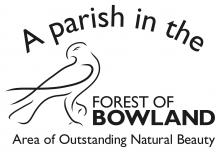 We have been working with Bolton-by-Bowland, Gisburn Forest and Sawley Parish Council to develop a parish logo with a Bowland identity, that could be used on their new parish website.  Have a look at their newly launched website http://tsbparish.org.uk/ and if you would like to utilise this logo in your own parish, please get in touch.  Email hetty.byrne@lancashire.gov.uk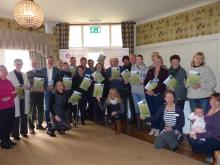 A big thank you to the Shireburn Arms, Hurst Green – one of several venues owned by Bowland Experience member,  James' Places – who hosted the launch of the Discovery Guide on Tuesday 19th January.  It was a great networking morning attended by over 30 BEx members, tourism staff, event organisers and councillors.  The press release can be viewed here http://forestofbowland.com/news  
The annual Sustainable Tourism Forum & Bowland Experience AGM was held on Tuesday 10th November at the Assheton Arms, Downham.  It was a buzzing evening with lots of useful information shared among members. Including updates on dark sky tourism, opportunities through Rural Development Funding and an update on the work of Champion Bowland.  Thanks to the Assheton Arms for providing such a cosy venue with fantastic food!