Enjoyment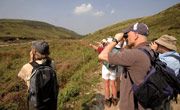 Partnership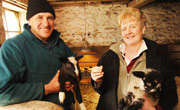 Landscape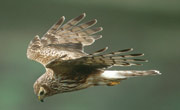 Community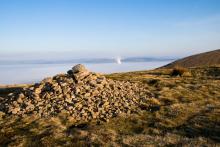 We are in the final stages of putting together our bid to Heritage Lottery Fund and will submit this by 1st June. The Landscape Partnership aims to conserve and enhance the Pendle Hill area,  to re-connect people with their landscape and their past, to safeguard the area's wildlife and heritage, and to improve people's access to this popular countryside area. Weaving through the programme and gathering together the two sides of the hill, will be a creative and digital thread, providing exciting opportunities for people to get involved and to be inspired by this special place.
We will keep you updated as the bid progresses. For for further information please contact cathy.hopley@lancashire.gov.uk
The Scrapbook publication was a great success and rounded off a great little project for 2014. Just under £1000 was raised through sales of the book, and the Trustees were so pleased with this that they have funded a re-print to go on sale primarily through the Museum of Lancashire to coincide with the exhibition. Copies will also be available at points of sale throughout the AONB for a donation of just £5, so get your copy quick!
Contact the AONB office if you would like a copy 01200 448000.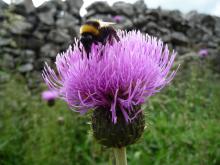 The 2014 fund was all spent up with 8 projects receiving a total of just over £19,000. Schemes this year included invasive species monitoring and removal in both the Wyre and Lune river catchments; a new biomass store at Thorneyholme school and insulation improvements at Pendleton village hall. More details of these and all the schemes we have supported over the years can be found on the website http://forestofbowland.com/SDF-Projects-201415
The 2015 fund will soon be open for business.
For further information contact cathy.hopley@lancashire.gov.uk
Partnership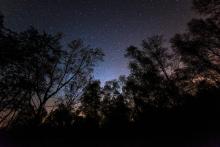 The Forest of Bowland is a stargazer's paradise - one of England's darkest areas making it a great destination both by day and night!  During March we organised two workshops, attended by 20 Bowland Experience businesses – 'Star Tips for Profit', helping tourism businesses to gear up to provide an unforgettable dark sky experience for customers.  The workshops, held at Wyreside Lakes Fishery and Stirk House Hotel, were delivered by local astronomer Robert Ince who has also helped the Northumberland International Dark Sky Park develop their offering and was the resident astronomer at the Scottish Dark Sky Observatory for its early phases.  Working with Robert, the Forest of Bowland is currently applying for Dark Sky Discovery Site status for a number of sites across the AONB, so visitors can view the skies at their best!  We'll keep you posted as things develop over the next few months!
For further information contact hetty.byrne@lancashire.gov.uk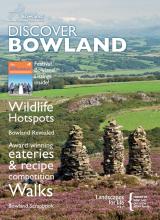 January saw the launch of a mobile friendly version of the website with some simplifications to design.  Statistics showed that increasing numbers of visitors were accessing the website via smart phones, tablets and other mobile devices and the old site, created several years ago now, just wasn't customised for these various platforms.  The new site is much fresher looking, with easier navigation and more images; feedback to date has been very positive and new interactivity via 'photo of week' has proved very popular.  Have a look at www.forestofbowland.com
Discover Bowland 2015 was launched in February and includes a wealth of information to tempt people out into this beautiful area. The full-colour A4 guide, which is available on-line and from local tourist information centres and selected venues, includes everything from walking routes and recipes to award winning green tourism businesses. And this year, for the first time, the new discovery guide features the Festival Bowland annual events calendar.  Bowland Experience members supported the guide through business advertising, making the project viable.
Local businesses, tourism representatives and event providers joined AONB staff at a special celebratory launch of the guide held at Gibbon Bridge Hotel near Chipping on 11th February.
Due to demand we have also recently re-printed the Bowland by Bike Leaflet and the Gisburn Forest Bike Trails leaflet, supported again by Bowland Experience business contributions and the Forestry Commission.