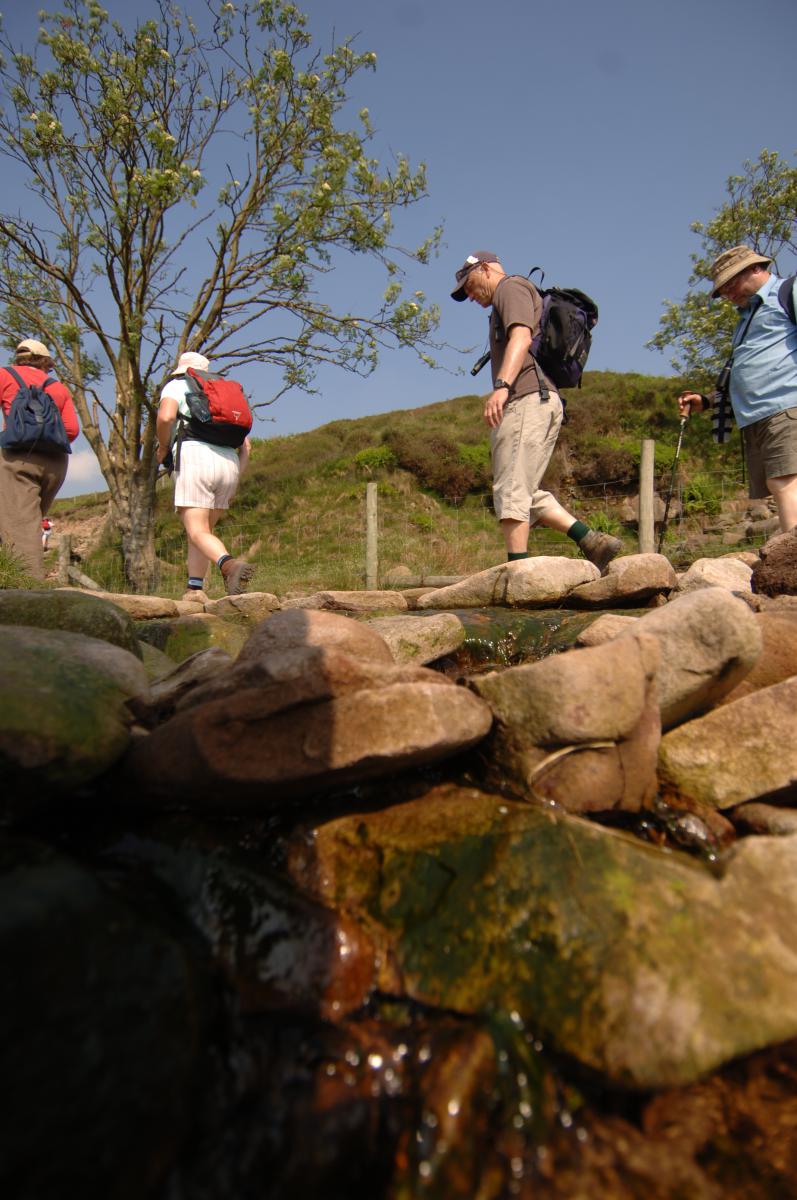 Safety
If you are going for a walk, it recommended that you:
Dress appropriately - avoid denim and any other clothing that doesn't dry quickly. It is better to wear lots of lighter layers, which can be removed or added. Sturdy footwear and waterproofs are also a must.
Carry the right equipment including an Ordnance Survey map (OS Explorer OL41); compass; first aid kit; high energy snack; something to drink; mobile phone (be aware that coverage can be patchy); whistle.
Always let someone know where you're going and what time you expect to be back.
Do not take any unnecessary risks.
If you are in difficulty or see someone in difficulty, please dial 999 and ask for Mountain Rescue.
To report any other incident contact:
Countryside Service - 01772 534 709, open 9am- Monday to Friday
Lancashire Constabulary 0845 1 25 35 45 or 999 for emergencies
Tramper Safety
Please ensure you are accompanied when using the Tramper, as some routes may include gates and are remote.  You should also take warm and waterproof clothing as the weather can change very quickly.  Please also note that some of the trails include sections of public highway.
Countryside / Moorland Code
From a gentle stroll or relaxing picnic, to a long distance walk or heart pumping adventure, the countryside provides every opportunity for enjoyment and relaxation. If you follow the Countryside Code wherever you go, you'll get the best enjoyment possible and you'll help to protect our open spaces now and for future generations.
Respect other people
• Consider the local community and other people enjoying the outdoors
• Leave gates and property as you find them and follow paths unless wider access is available
Protect the natural environment
• Leave no trace of your visit and take your litter home
• Keep dogs under effective control
Enjoy the outdoors
• Plan ahead and be prepared
• Follow advice and local signs
Download a copy of the Countryside Code
Other Walking Safely Advice
NFU Advice for Walkers: http://www.nfuonline.com/cross-sector/rural-affairs/access/access-news/livestock-and-rights-of-way-reducing-the-risk/
Enjoy the countryside responsibly with dogs: http://www.nfuonline.com/loveyourcountryside_final/
---
Tick Awareness
What is a tick?
Ticks are tiny creatures called parasites which feed on the blood of lots of types of animals and sometimes people.  They travel by walking on the ground and up plants, or are transported by birds and animals, then they wait for an animal or person to pass by, drop onto it or hook onto it with special hooks on their legs.
What does a tick look like?
Ticks vary in colour and in size, depending on the type of tick, whether it is male or female, and whether it is a baby, juvenile or an adult. Ticks are very tiny, with the largest (unfed) tick being 3mm.
Why are ticks a risk to people and pets?
Ticks normally choose wildlife and farm livestock to be their hosts. However, people and pets send out the same signals as the tick's usual hosts. Some ticks can carry organisms in their saliva. When they bite, the saliva can enter the bloodstream of the host and this can make them ill.
Because winters are warmer, and because there have been changes in farming methods, as well as other factors, there are more ticks about. Ticks are also spreading into new places where they weren't found before. Because of this, and because more people tend to be involved in outdoor activities, a greater number of people get bitten by ticks. This means that more people get diseases from the ticks.
Diseases passed on by ticks are called tick-borne diseases. The most common tick-borne disease to affect people in the UK and Ireland is Borreliosis, which is also called Lyme borreliosis or Lyme disease.
Be tick aware:
you could be exposed to ticks whenever you are outdoors and enjoying the countryside, even in your garden or the local park
ticks attach themselves to animals to feed and sometimes this can include people
you can prevent tick bites by walking on clearly defined paths, using insect repellent and performing regular tick checks
some tick bites can result in infection so it is important to remove ticks as soon as possible
ticks can be removed safely with tweezers or a tick removal tool
if you have been bitten or recently spent time outdoors and start to feel unwell, contact your GP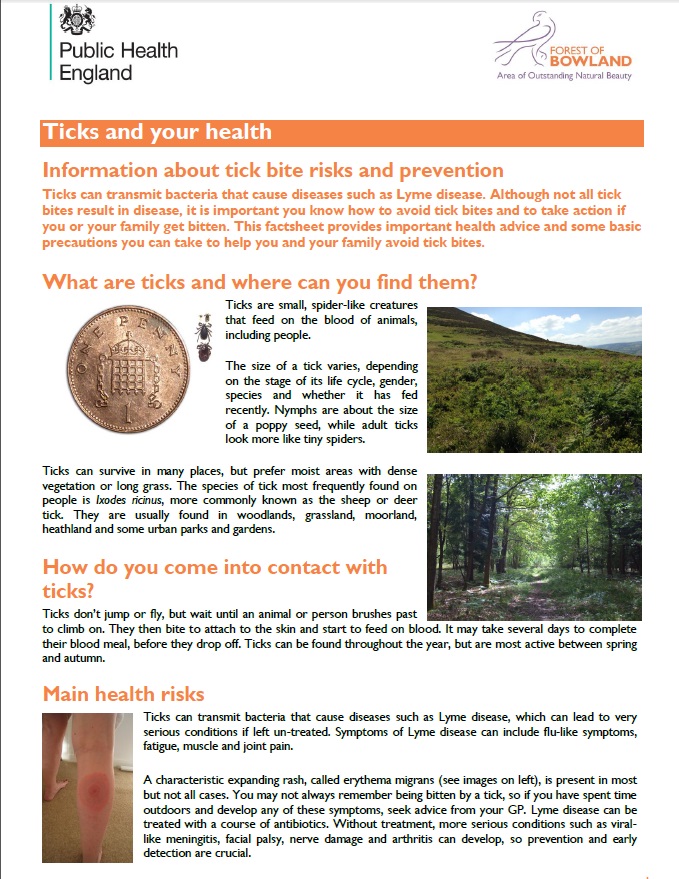 To find out more about ticks and how to protect yourself have a look at the following information from Public Health England:
Other links:
http://www.bigtickproject.co.uk/
The Tick Threat Map
http://www.bigtickproject.co.uk/ticks-in-the-uk/uk-tick-threat-map/
---
Sustainable Tourism
The Forest of Bowland Area of Outstanding Natural Beauty (AONB) is a protected landscape that has international importance for its heather moorland, blanket bog and rare birds. In 2005 the AONB became the first protected area in England to be awarded the European Charter for Sustainable Tourism in Protected Areas, joining just 30 other areas across Europe.The Charter is awarded to protected areas that are delivering tourism that is both nature and landscape friendly and which contributes to the economic development of the region. The Charter approach ensures that organisations, local people and businesses are working together to protect the area, whilst at the same time increasing opportunities for visitors to discover and enjoy its special qualities. You can contribute to sustainable tourism by:
Leaving the car at home and using public transport instead
Purchasing local products, including food and drink
Making a donation to the Bowland Tourism Environment Fund through donation boxes at participating businesses in the area
Follow this link to view the full Visitor Code