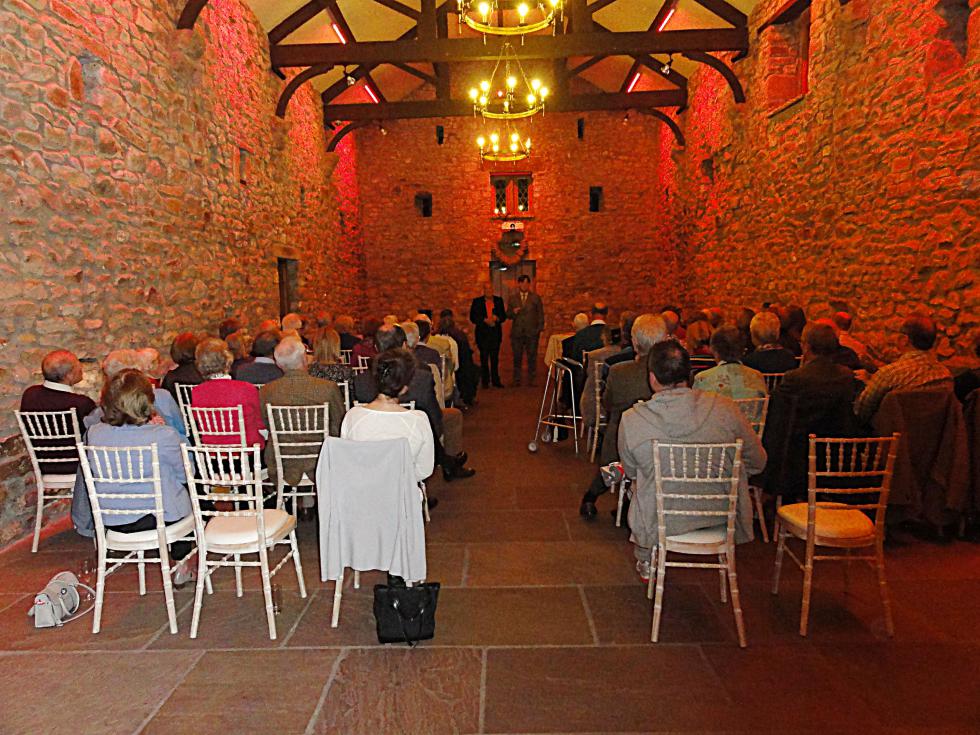 An appreciative audience enjoyed an evening with Lakeland composer, Christopher Gibbs, recently, and learnt about the inspiration for his Forest of Bowland Suite.
The event was hosted by William Bowland, 16th Lord of Bowland, as the focus of his fifth annual lecture and was held in the lovely surroundings of Browsholme Hall's Tithe Barn.
Chris, who came originally from Surrey, had his first taste of Bowland as a youngster when he visited with his parents.  He told of their delight on a journey through the Trough, having had no idea that such landscapes existed in the area.
He returned many years later as an adult and it was during a walk on Pendle Hill that the inspiration for the first movement, Dawn on Pendle Hill, came to him.  Chris subsequently went on to write a further four movements: Clitheroe Market, Noonday Sun on Beacon Fell, Teatime in Chipping and Moon over Downham, to complete his popular suite.
After listening to a recording of each piece played by a piano/violin/cello trio, the first movement was then repeated – this time by string quartet followed by woodwind quartet – and the audience asked to choose their favourite.  A fairly similar show of hands for each version!
Although Chris now lives in Cumbria, he still holds fond memories of his time in Bowland, and on a recent visit to Downham with his wife, was very happy to find the village almost unchanged.
Chris's music, and work by other members of the Lakeland Composers, can be heard at http://www.lakelandcomposers.org.uk/index.htm, whilst an excerpt from Moon over Downham can be heard at this link.
Our picture shows Christopher Gibbs, the Lord of Bowland and the audience after the lecture.