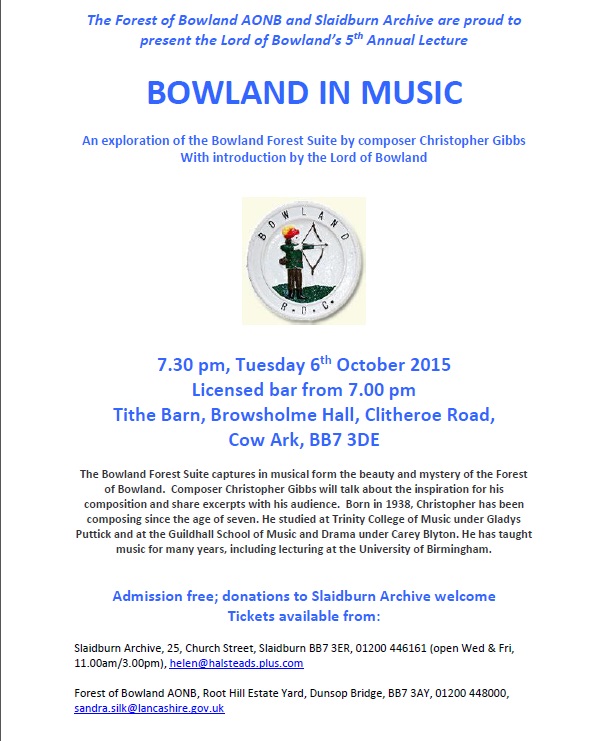 The popular Lord of Bowland annual lecture will be taking on a tuneful theme this year with an exploration of the Forest of Bowland Suite by composer, Christopher Gibbs.
The Forest of Bowland Suite captures in musical form the beauty and mystery of this special place. During the evening Chris will talk about the inspiration for his composition and share recorded excerpts with his audience.
Born in 1938, Chris has been composing since the age of seven. He studied at Trinity College of Music and the Guildhall School of Music and Drama and has taught music for many years, including lecturing at the University of Birmingham.
An excerpt from Moon over Downham, the fifth movement of Chris's orchestral suite, can be heard by clicking this link (taken from the Lakeland Composers website http://www.lakelandcomposers.org.uk/c_gibbs.htm).
This year's lecture will take place in the wonderful surroundings of Browsholme Hall's Tithe Barn on the evening of Tuesday 6th October.  The event is free but donations towards Slaidburn Village Archive are welcome on the night.
Please book your place in advance by contacting either:
Slaidburn Archive, 25, Church Street, Slaidburn BB7 3ER, 01200 446161 (open Wed & Fri, 11.00am/3.00pm), helen@halsteads.plus.com or
The Forest of Bowland AONB, Kettledrum, Root Hill Estate Yard, Dunsop Bridge, BB7 3AY, 01200 448000, sandra.silk@lancashire.gov.uk